5th June 1945
Avro Lancaster Mk I (NN799)
Mission of 5th June, 1945
Body thrown back by the sea at Plévenon (22) on 25th July, 1945
(contributor : Jean-Michel Martin)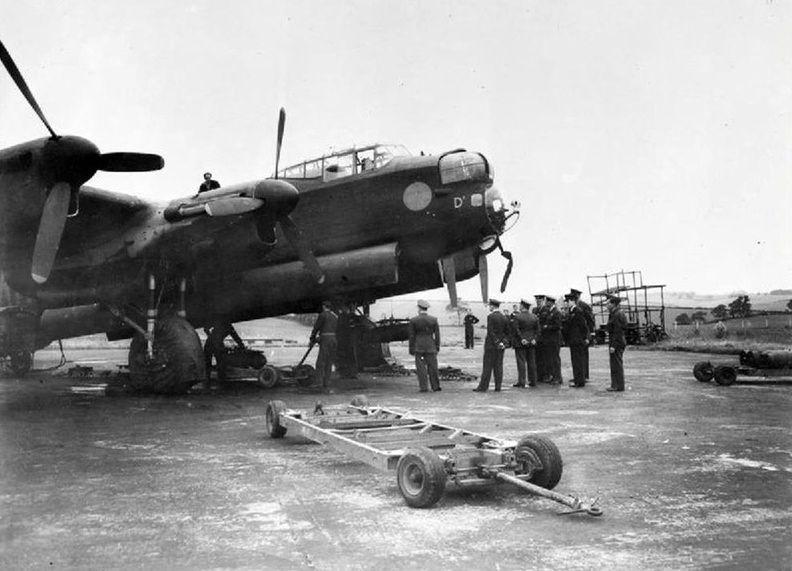 Avro Lancaster Mk I no 460 Squadron RAAF
© with courtesy www.adf-serials.com.au
Crew (460 Squadron RAAF):
- Pilot Officer (Pilot) Saxe Eric COVERDALE (service number 434498)
- Flight Sergeant (Flight Engineer - pilot) A. MADDOCKS (service number 1684275)

- Flight Sergeant (Bomb Aimer) Leonard Harris DUNCAN (service number 436729)
- Flying Officer (Navigator) Pauric Denis LANE (service number 436506)
- Flight Sergeant (2nd Navigator) Robert Georges BATTY (service number 430587)
- Flight Sergeant (Wireless Operator - Air Gunner) George Richard CRUTE (service number 436695)
- Flight Sergeant (Mid-upper Gunner) Keith Henry McLEAN (service number 430977)
- Flight Sergeant (Rear Gunner) John Bullfinch THOMAS, aged 28 (service number 16696)
Plévenon communal cemetery (22, Brittany)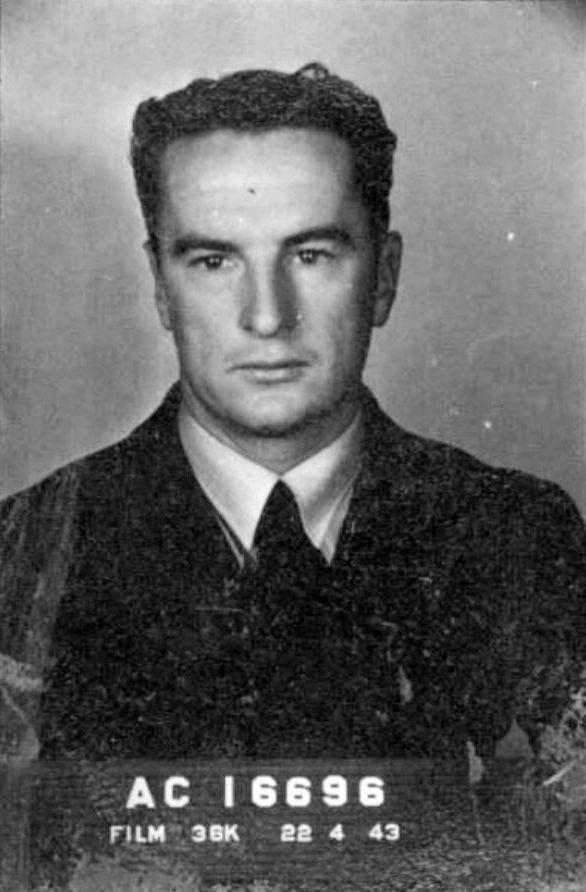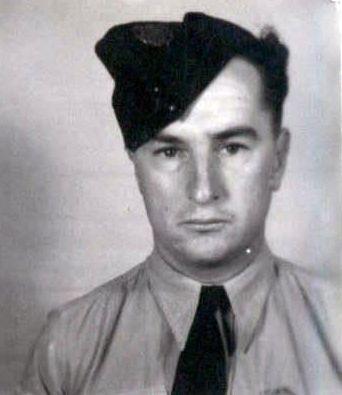 Flight Sergeant (rear gunner) John Bullfinch THOMAS,
Photos : National Archives Australia NAA series No. A9301 Item 4562556
THE STORY
The story of Flight Sergeant John Bullfinch THOMAS is strange. Born in Perth, Australia, on October 26, 1917, he was the son of Robert and Johanna THOMAS. On Tuesday June 5, 1945, World War II ended a month ago. From Brinkook, England, the Lancaster Mk 1 NN 799 took off for a training flight over France. Everything was going normally. The pilot, Saxe Eric COVERDALE, was piloting this aircraft. Flight Sergeant THOMAS occupied the rear turret of the bomber. In the middle of the day, the four-engine aircraft flew over the Saint-Malo region at an altitude of 12,000 feet when suddenly, the autopilot broke down, leading the aircraft into a dizzying descent. Arrived at 700 feet, COVERDALE finally succeeded in taking back the controls of the Lancaster. A few minutes later, the aircraft was stabilized and under control and headed the return route. Suddenly, a crew member noticed that John Bullfinch THOMAS was no longer on board. He warned everyone. They discovered that his parachute tangled in the controls of the turret he occupied. Did he think the aircraft was about to crash ? Probably yes. He hadn't told anyone of his decision to bail out. Everything must have happened very quickly. The rest of the crew returned safely to the base.
He therefore fell into the sea. His body was found on July 25, 1945, on the beach of "Les Grèves d´en Bas in Plévenon", Côtes d´Armor, west of Cap Fréhel, Brittany. He was 28 years old.
Lancaster NN799 served with 460 Squadron from 02/14/45 to 04/18/45. He carried out 13 missions and was struck off on May 7, 1947.
IN MEMORIAM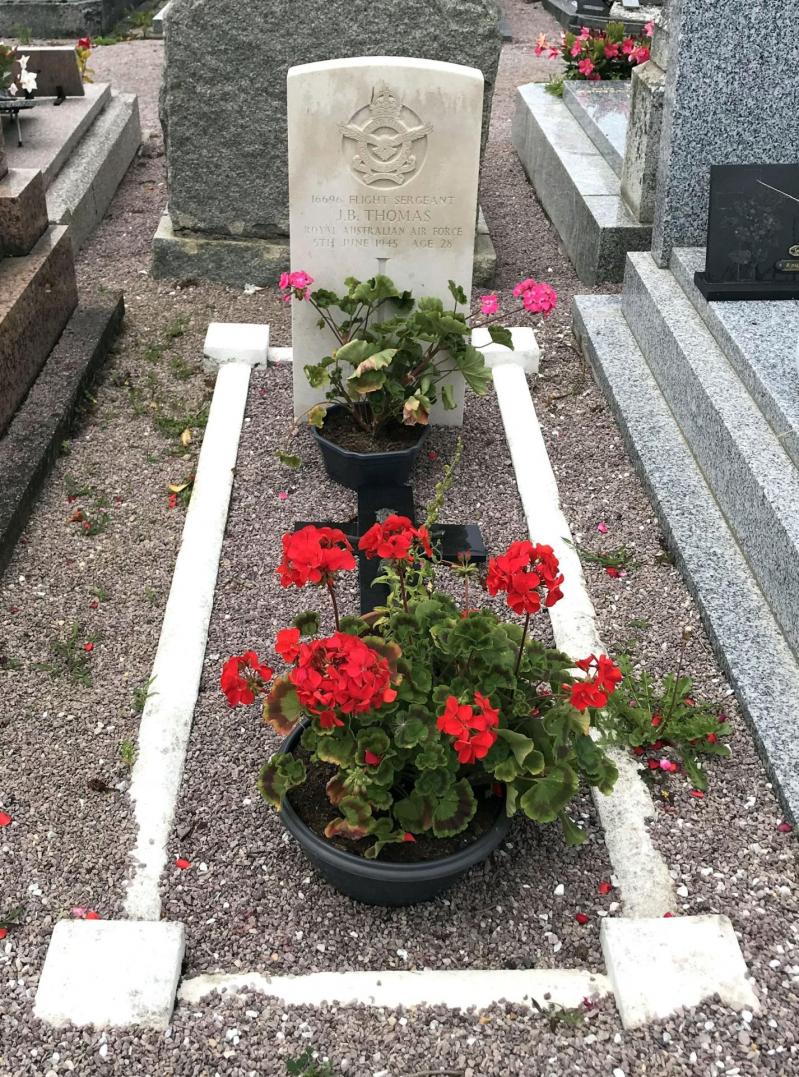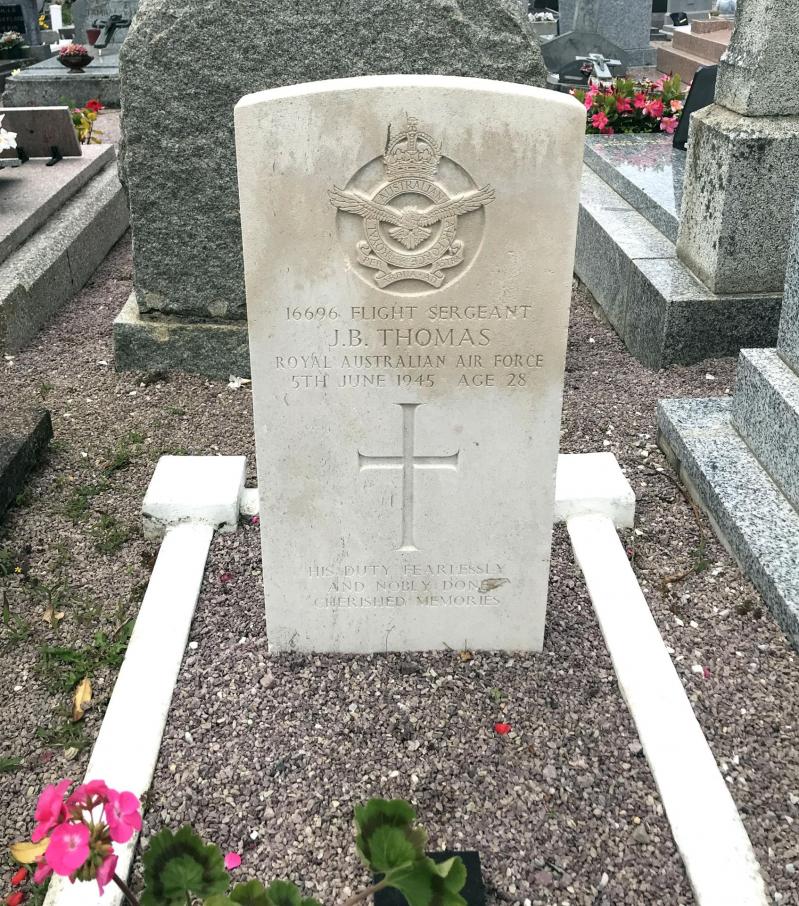 The grave of John Bullfinch THOMAS at the communal cemetery of Plévenon (22)
Photos Benoit Paquet - ABSA 39-45

IN THE PRESS
• Article of July 27, 2020 (Ouest France)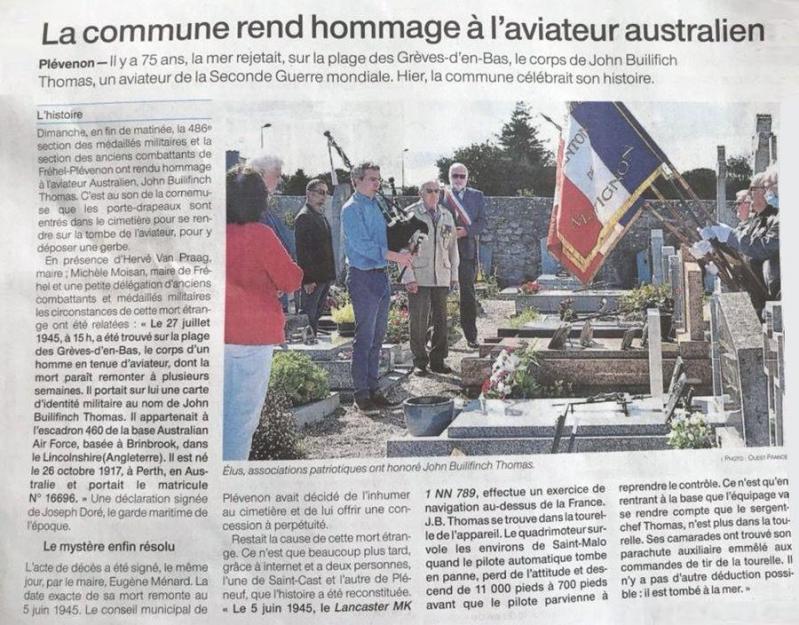 Jean-Michel MARTIN (ABSA 39-45)

Sources :
Air Historical Branch (RAF) - Letter of 05/12/2007.
ADF-serials : www.adf-serials.com.au
Forum Royal Air Force Commands