1st June 1944
Supermarine SPITFIRE Mk VII
MB887 (code NX-?)
In the sea off Plérin (22 - Brittany)
(contributors : Bertrand Chaudet, Michel Pieto, Joss Leclercq, Ian, Daniel Dahiot, Jean-Michel Martin, Frédéric Hénoff)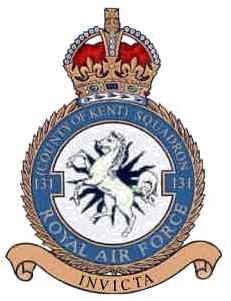 131 Squadron Royal Air Force (County of Kent)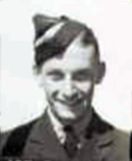 Pilot : Warrant Officer ATKINSON William James, 21 years old
(service number 413 332. born on 14th August, 1922 in North Sydney, New South Wales, Australia. Son of Clifford and Elsie May Atkinson, Cremome, New South Wales)
THE STORY

Mission report - Flying Officer Stanley Aske Catarall (Réf. 131S/137/P2).
I was the leader of a flight of 4 aircrafts for a mission Rhubarb 265 (free attack with our section on ground targets such as trains, aircrafts, convoys ...). We took off at 11:43 am with 4 aircrafts from Flight 'D' and we crossed the French coast 3 miles west of St Alban at 0 feet. Arriving over Lamballe, I turned to the west following the railway line, then, as I approached Saint Brieuc, I dived a little south of the city, then going north-west. I turned again, when, at about 800 feet, "I saw a train appearing behind some trees 5 miles west of Saint-Brieuc. I called to inform we were about to attack."
Red 2, 3 and 4 followed me and I was hit by the Flak, a machine gun fire from two or three wagons at the rear of the train. I called and said that I had been hit and that I had to fly back home, asking them to join me. Red 3 and 4 were behind me, but I couldn't see them; I called Red 3 and asked if they were OK. Red 3 said he couldn't see Red 4, W/O Atkinson, so I asked repeatedly but got no answer. So I called control Jairo and asked them to try to contact him. The attack took place around 12:28 p.m., we crossed the coast from the south of "Pointe du Minard" and landed at the base at 1:20 p.m.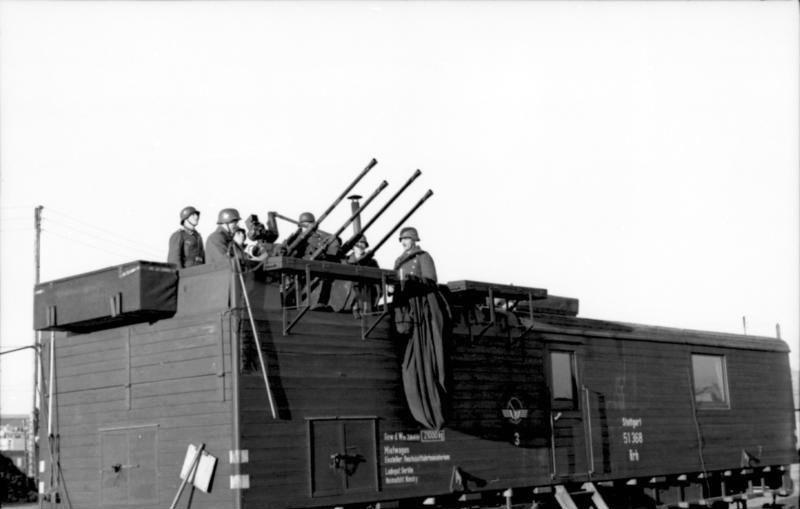 © Bundesarchiv, Bild 101I-621-2944-26A / Doege / CC-BY-SA 3.0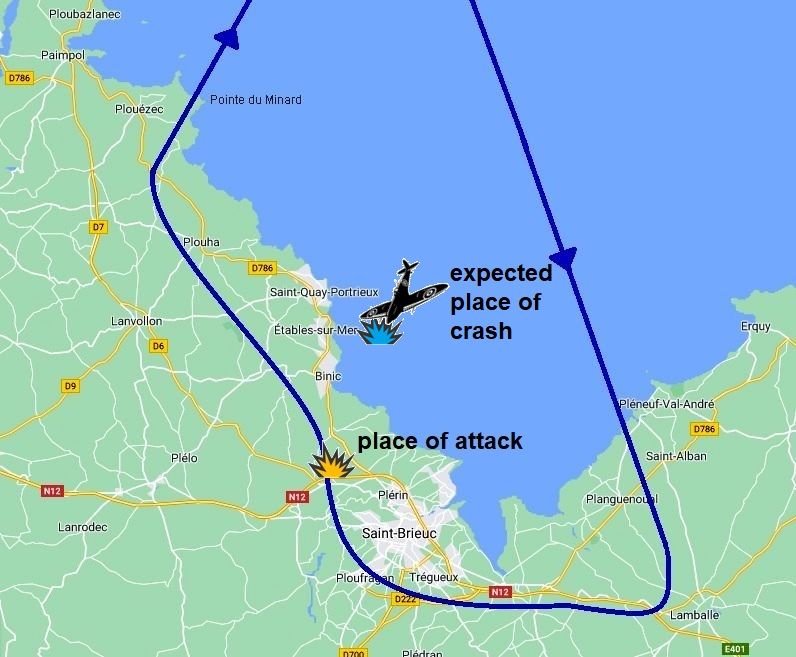 The route of the aircrafts according to the report of the Flying Officer Stanley Aske Catarall
Map data © Google
Mission report - Flying Officer, Smart C.A.
I was flying as Red 2 on the Rhubarb 265 mission with F/O Catarall, mission leader and with W/O Atkinson as Red 4. We took off of course from Culmhead at 11:45 am and crossed the coasts of France west of St Alban at zero feet. We turned west of Lamballe and climbed to control the railroad tracks at Saint-Brieuc, where we dived, passing through the south of town at zero feet, then we turned northwest and climbed. I was flying along the line about 80 yards on the port side of Red 1 with Red 3 and 4 on my port side. We climbed to about 800 feet again when I heard Red 1 saying he was about to attack and saw him turn and dive. I followed him and heard a cannon firing from a wagon at the rear of the train, and right after I heard that Red 1 had been hit and that we had to follow him. I stayed at zero feet and followed him and saw Red 3, but I couldn't see Red 4. I heard Red 1 call and ask Red 3 and 4 if they were Ok. Red 3 said that he couldn't see Red 4. Red 1 called him several times and finally he called Jairo and asked them to try and contact him. We crossed the south coast of 'Pointe du Minard' and landed at the base at 1:20 pm.
Mission report - Flight Lieutenant, Richard Ulick Paget de Burgh.
I was flying as Red 3 on the Rhubarb 265 mission with F/O Catarall, our leader, and W/O Atkinson as Red 4. We took off at 11:43 am and of course towards France. We crossed the French coast 5 miles west of St Alban, at zero feet, and turned west along the main railroad line at Lamballe. We flew south of the railroad line in a pretty loose echelon flight. Just after passing St Brieuc, the F/O Catarall, who was flying about 800 feet, turned sharply to the right ; F/O Smart, Red 2, and I followed just before turning. I noticed that the W/O Atkinson had started to turn to starboard as well. F/O Catarall attacked a freight train about 4 miles west of the town of St Brieuc and Red 2 followed. I noticed Flak fire coming from the back end of the train, but not in my direction. The train had stopped or was moving very slowly and was heading west. After my attack which was about 30 degrees towards the train, I broke the side while zigzagging. F/O Catarall called and told me he had been hit and was coming home and everyone had to come back with him.
I circled for Red 4 but couldn't see him ; it was around 12:28 pm. I called Red 1 and told him that I couldn't see him and that I couldn't see Red 4 either. Red 1 called Red 4 and got no response. I hadn't seen Red 4 since his attacking turn on the train. We left near Saint Quay Portrieux and landed at the base at 1:20 pm.
William James ATKINSON
William James ATKINSON was born August 14, 1922 in North Sydney, New South Wales, Australia. He attended school until he was 16 years old. Considering the worrying world situation at that time, and considering his impatience before his military enlistment, he worked from his 17 years in an agency of the National Bank of Australia where he had a function of clerk. He lived with his parents, Clifford and Elsie May ATKINSON, at 71 Milson Road, Carlton Flats, in CREMORNE, in the northern suburb, about 6 kilometers from the center of SIDNEY, Australia. The origins of the ATKINSON family were English. On January 1st, 1905, the autonomous parliamentary Australian colonies officially declared themselves the Commonwealth of Australia. Independence did not close the attachment to Great Britain. Many young Australians took an active part in the first World War 1914-1918. In 1915, they were involved in the Battle of the Dardanelles alongside the British forces. At the end of the 1930s, considering the deteriorating world situation, Australia activated a large plan of military training, also knowing that the fear of a Japanese invasion was felt in the whole population, after the rapprochement of Japan with the bloody countries of the axis.
He enlisted in the Royal Australian Air Force (RAAF) and joined the Linfield 2 I.T.S. training center on August 17, 1941 (service number 413 332). He trained at 10 E.F.T.S. in Temora from November 13, 1942. Then at 2 S.F.T.S in Wagga, on March 8, 1942. On February 23, 1942, 7 S.F.T.S. in Deniliquin (New South Wales). He obtained his temporary pilot badge on May 2, 1942. On July 8, 1942, he was transferred to 2 ED at Bradfield Park. Sent to Great Britain, he arrived on December 18, 1942, at Bournemouth RAF base, Dorset County, in southern England, after a difficult crossing which lasted a dozen days. He carried out his operational transformation at O.T.U. 5 (Operational Training Unit) on February 2, 1943, at Aston Down, near Gloucester. One month later, he moved to Grangemouth, in Scotland. He was in the rank of T/Sgt. Pilot on March 16, 1943. He then joined Squadron 131 at Churchstanton, Somerset County, South-West England, on December 4, 1943.
Very quickly, with his comrades, he was engaged in various missions and enemy attacks on all fronts, such as reconnaissance in the occupied territory or numerous missions to protect bombers (it was necessary to protect heavy allied aircraft against German fighters). But the missions in which Warrant Officer Atkinson also participated, were those at high risk named "RHUBARB". RAF airmen, taking off from England, had to hit enemy targets at the appropriate time. Flying over the English Channel towards occupied France, they flew at low altitude, most often in groups of four. They were under the orders of a leader who was not necessarily the highest ranked, but the one whose experience was the most recognized. Having spotted a target on the ground, the leader used to give the order to attack, often in a nose-down attitude with all the risks involved when facing the anti-aircraft guns, but also close to the ground, causing surprise to the enemy. It could be a troop, a convoy of vehicles, including armored vehicles, aircrafts parked on an airfield or hidden under a forest canopy, railway convoys, easily spotted from the sky due to the fact that at that time, the steam cleared by the locomotive could be easily seen. The missions in early summer 1944, were particularly intense. It happened that a pilot took part in four operations a day, often over long distances, the fighters having a longer fuel range than at the beginning of the war. The allied had long established the plan which would lead them to trigger on the morning of June 6, 1944 on the Normandy coast, Operation called "OVERLORD", the Normandy landings.
Early on this morning of Thursday, June 1st, 1944, on the RAF station COLMHEAD, near TAUNTON, county of SOMERSET (South West England), four airmen gathered in the briefing room, designated for a mission of rapid intervention in North Brittany. An operating officer explained to them that the resistance in the region of Saint Brieuc, "Côtes du Nord" at that time, indicated that a freight train of about twenty wagons was parked on the railway line between Saint Brieuc and Châtelaudren, and that this convoy was probably broken down. The attack had to be with surprise effect, and then they had to fly towards the Channel, very close. This train, like many German trains at that time, had an anti-aircraft wagon, often placed at the rear of the train ; caution was required. The Flying Officer Stanley CATARAL was the leader. In second position was the Flying Officer SMART. In third position the Flight Lieutenant Richard Ulick PAGET DE BURGH. The fourth in this formation was the Warrant Officer William James ATKINSON, 22 years old. All of them were flying a Supermarine SPITFIRE Mk VII, equipped with two formidable 20 mm cannons, and four 7.65 mm caliber machine guns.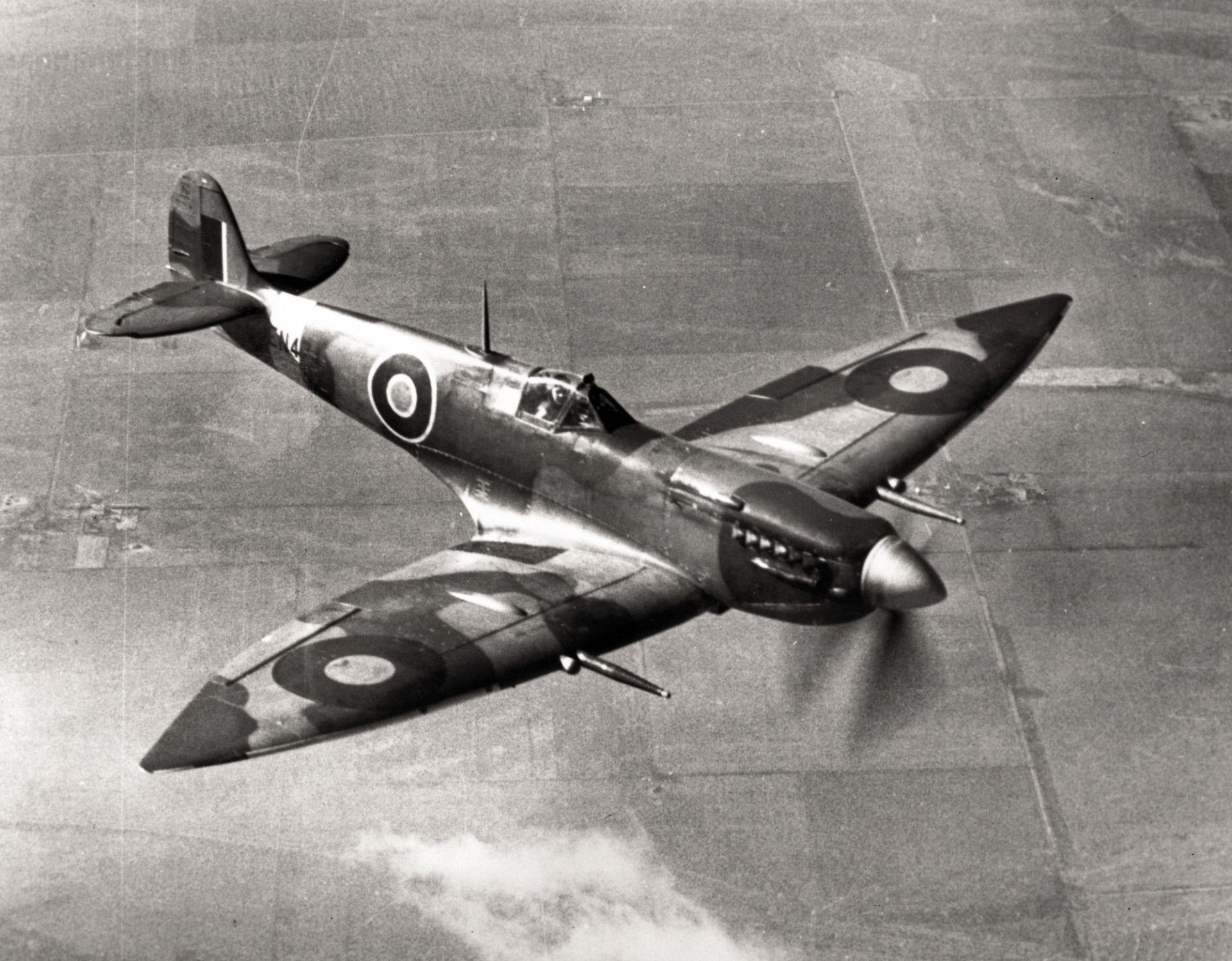 Un Spitfire Mk VII - Photo NACA - USAF (domaine public)
They took off at 11:45 am. Very quickly they climbed into altitude and the four aircrafts gathered themselves over the sea. They headed northern Brittany, the bay of Yffignac, very easy to locate at the east of Saint Brieuc. Good weather was announced before the take-off, just a few clouds at high altitude. Crossing the Channel was rapid, the formation arrived 5 km west of Saint-Alban, in the "Côtes du Nord". The leader gave the order to gain altitude. The search for the target was launched by heading west, following the railroad tracks. F/O CATARAL reported to his teammates that he had spotted the train convoy ; it seemed to be moving slowly. He specified : "we will attack immediately, be ready !". The aircrafts were at an altitude of 250 meters when the leader dived and attacked. He opened fire on the train and then turned his aircraft while gaining altitude. F/O CATARAL's aircraft was hit by several 20-millimeter shells fired from the artillery wagon at the rear of the convoy. At high speed, it evacuated towards the sea, which was close, and asked each pilot to join him quickly after their attack. He indicated to take the direction of Saint-Quay Portrieux, then the "Pointe de Minard en Plouezec", near Paimpol, and then to engage the return towards the base. Everything happened very quickly, it was 12:28 pm. The W/O ATKINSON, contacted several times, did not answer. He was not seen either, by any of his teammates. No smoke that would signal his crash. What happened ? Flight Lieutenant PAGET DE BURGH, while making a large curve, briefly searched for him. He did not see any sign of his young teammate. No smoke that could indicate that he was on the ground. He then joined the group. The three airmen landed at Colmhead airfield at 1.20 pm. In their mission report, the three airmen reported the disappearance of Atkinson. He was probably hit by enemy fire, maybe he was killed instantly ? Nothing more in the reports. A report from Flak, the German artillery, specified that on June 1, 1944, they shot down a Spitfire, west of Saint-Brieuc, at 12:36 pm. It was indeed our unfortunate pilot. In 1948, his name and number were inscribed on the wall of the missing at the Runnymede Air Forces Memorial (panel 259). In this Memorial are inscribed the names and ranks of 20,547 airmen who went missing during WWII and who have never been buried. It is located in the southwest suburb of London, in the county of Surrey. However, the Australian War Museum reports that his body was found and is buried in Brookwood Military Cemetery, Pirbright, Surrey, England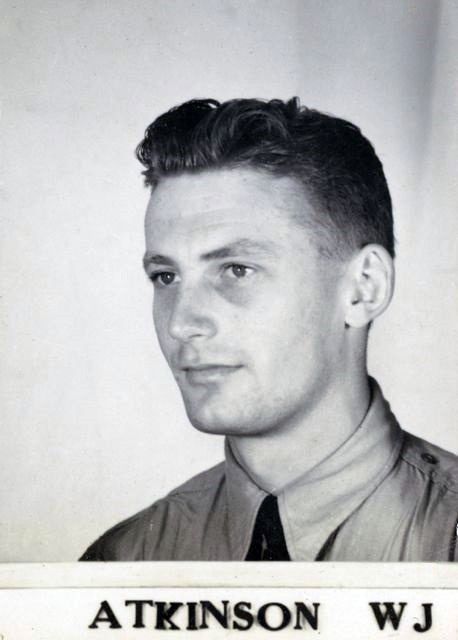 Studio portrait of Leading Aircraftman (LAC) service number 413332 William James ATKINSON
© Australian War Memorial - Photo P11016.008
WJ ATKINSON's curriculum in a few dates :
(source : Frédéric Hénoff, ABSA 39-45)
In Australia :
- No.2 Initial Training School - 17-8-1941, Lindfield, New South Wales (NSW)
- No.10 Elementary Flying Training School - 13-11-1941, Temora NSW
- No.2 Embarkation depot - 5-2-1942, Bradfield Park, NSW
- No.2 Service Flying Training School - 8-3-1942, Wagga, NSW
- No.7 Service Flying Training School - 23-3-1942, Deniliquin, NSW
- No.2 Embarkation depot - 8-7-1942, Bradfield Park, NSW

In Great-Britain :
- RAF Station Bournemouth (read raher No.3 Personnel Reception Centre) - 18-11-1942, Bournemouth, Dorset
- No.5 (P) Operational Training Unit - 2-2-1943, Aston Down, Gloucestershire
- RAF Grangemouth - 16-3-1943, Grangemouth, Stirlingshire Scotland
- No.1 Personal Despatch Centre - 8-7-1943, West Kirby, Cheshire
- No.1 Personal Despatch Centre - 28-7-1943, West Kirby, Cheshire
- No.1 Personal Despatch Centre - 27-9-1943, West Kirby, Cheshire
- RAF Grangemouth - 1-11-1943, Grangemouth, Stirlingshire Scotland
- No.131 Squadron - 4-12-1943, Churchstanton, Somerset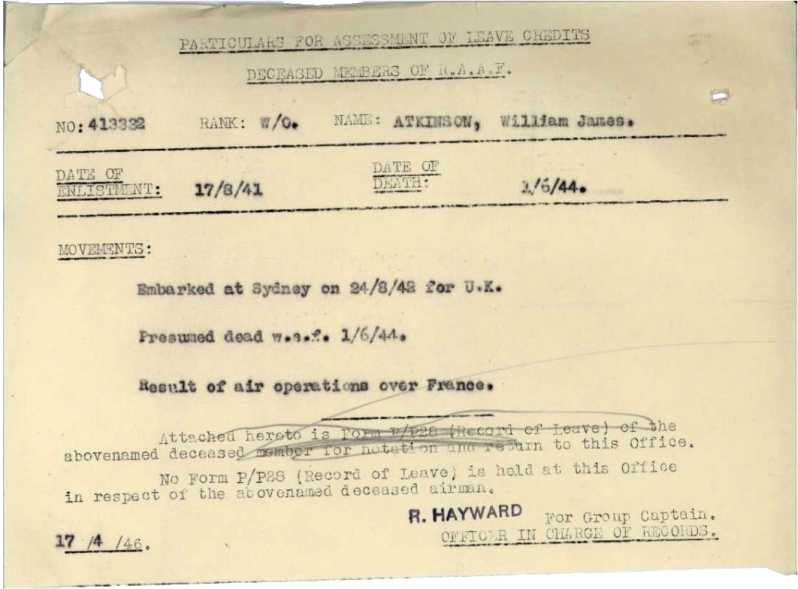 Source : National Archives of Australia
AIRPLANE PARTS FOUND AT SEA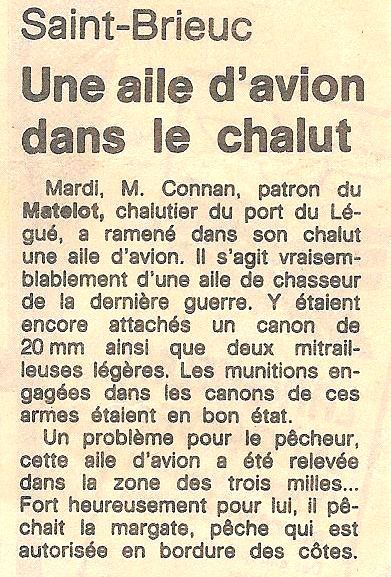 In May 1988, a trawler named "Le Matelot" owned by Mister Connan, from the port of Légué, brought back a piece of an airplane wing in its trawl, with brass identification plates on it. The machine gun on the wing was immediately removed and taken away by the police for understandable security reasons.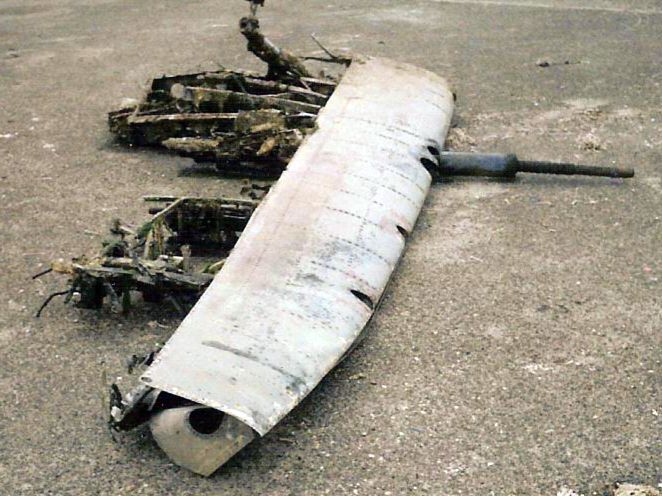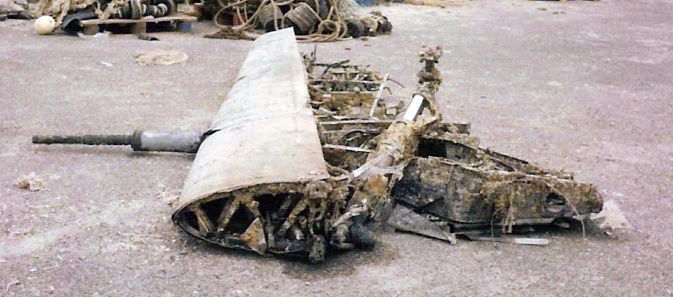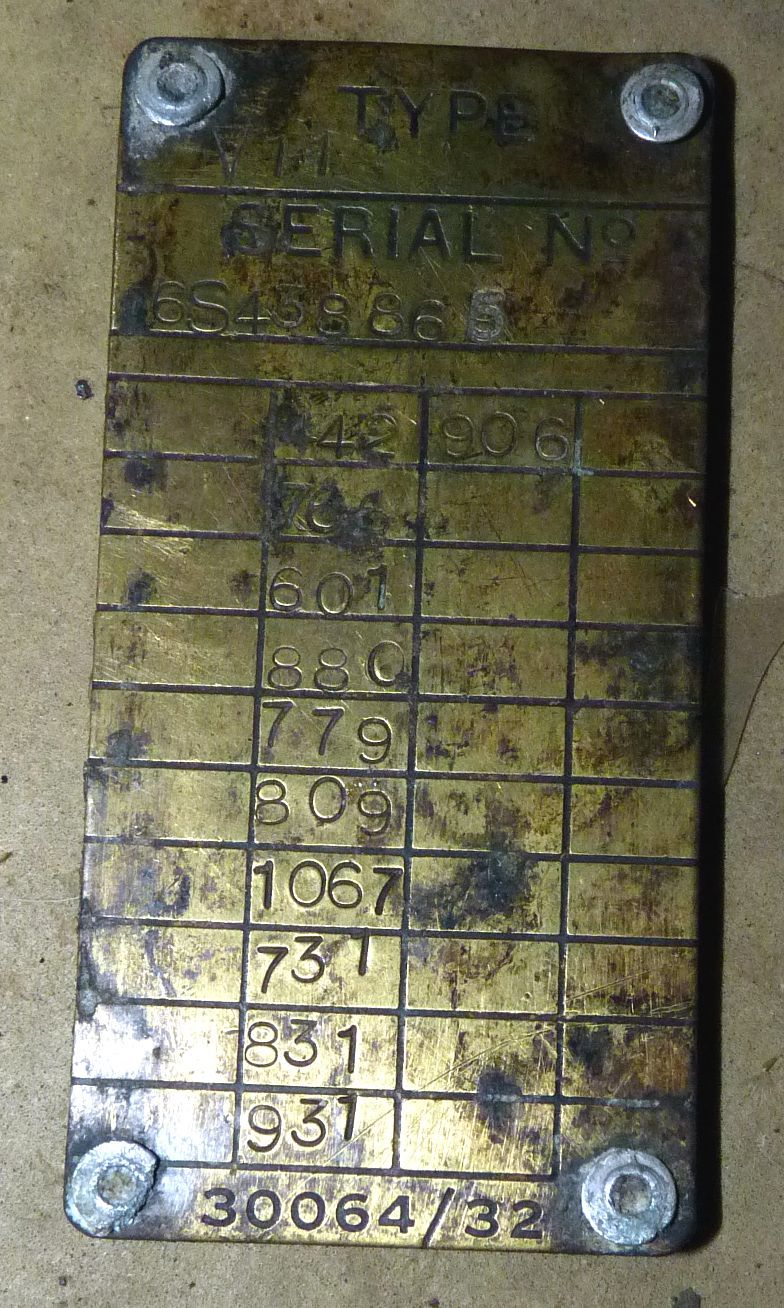 Le dossier pour retrouver l'épave du Spitfire VII est en cours d'instruction par le ministère de la guerre Australien. Seuls trois modèles du Spitfire Mk VII sont tombés en Bretagne : notre MB887 et le MB883 en Côtes d'Armor et le MD166 dans le Finistère. Tous les trois du N°131 Squadron. Nous ne savons pas à aujourd'hui à quel Spitfire appartiennent ces pièces.
The file to find the wreckage of the Spitfire VII is being investigated by the Australian Ministry of War. Only three models of the Spitfire Mk VII fell in Brittany: our MB887 and the MB883 in " Côtes d'Armor " and the MD166 in " Finistère ". All three from No. 131 Squadron. We do not know to which Spitfire these parts belong.
Thanks to :
Jossleclercq and Ian for identifying the plates (Forum RAFCommands.com).
Mister Bertrand Chaudet for having kept this wing spar for so many years, then for having entrusted it to the Procraft project team with the prospect of preserving this trace of history in homage to William James ATKINSON.
The Mayor and the municipal team of Binic - Etables sur Mer for their warm welcome and their contribution to this preservation operation.