21st March, 1941
Handley Page HAMPDEN Mk I (X3132 - code OL-L)
"Le Poulou" & "Rosquiel" - La Chapelle Neuve (22)
(contributor : Commonwealth War Graves Commission - CWGC)


Hall Park Books - Warpaint Series N° 057 - Handley Page Hampden And Hereford - Via Barthélémy Barré


Crest 83 Sqdn RAF
© Crown Copyright?
Crew (83 SQN, RAF) :
- Sergeant Pilot JAMES OLIVER BARTON (P.O.W. - Escaped)
- Sergeant Pilot MILLAR, WILLIAM ALEXANDER (K.I.A.)
- Sergeant (Navigator) MacCALLUM DUCAN. (Escaped)
- Sergeant (Operator/Machine Gunner) WEIR, NORMAN STEWART (K.I.A.)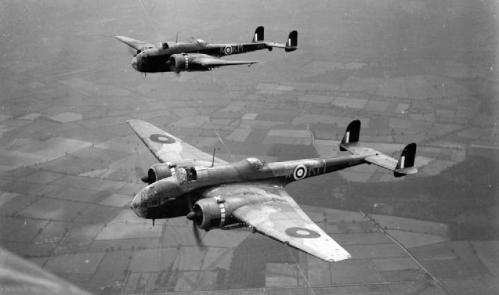 Handley Page Hampden Mk I © IWM (CH 3478) - public domain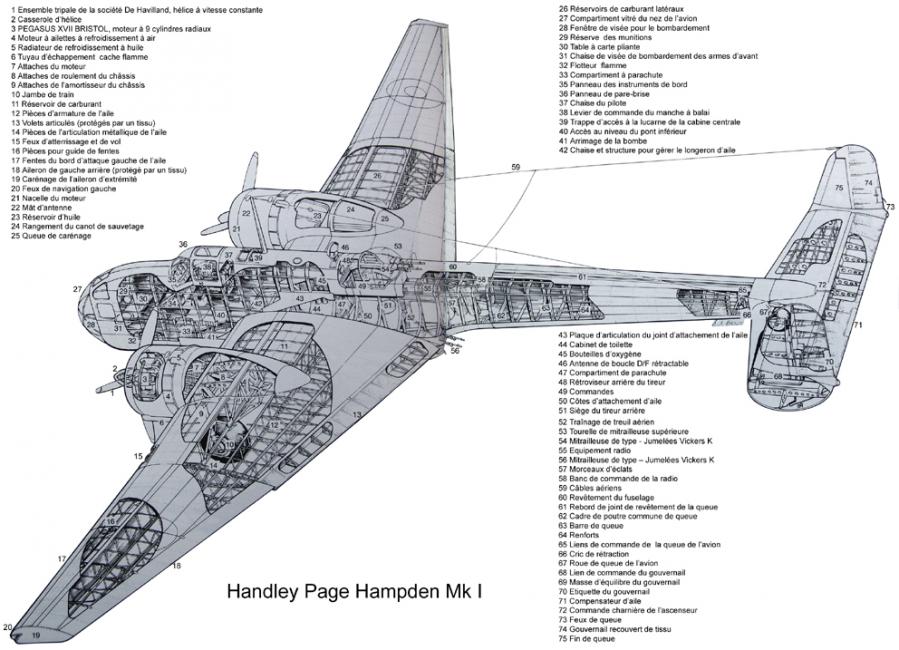 THE STORY
Friday, March 21st, 1941. Crash of Royal Air Force bomber HAMPDEN I X3132. No.83 Squadron RAF, Bomber Command, based at Scampton. Lincolnshire (east central region of England).

The aircraft had crashed in a sunken path between the villages of "Rosquiel" and "Le Poulou" at about 2 am in the morning. The bomber had left its base, located 6 miles north west of the city of Lincoln, shortly after midnight. It flew with another aircraft of the same type. They had both the same mission. The target of this mission, called "Gardening", was the natural harbour of Brest, in Finistère, where each aircraft had to drop a one ton submarine mine, which was supposed to become a death trap for any entering or outgoing enemy ship in the bottleneck of this strategic harbor. Once dropped, these mines, were slowed by a parachute during their fall, to avoid their explosion due to a violent contact with the surface of the water and to allow a vertical entry in the sea. They were then positioned, ready to explode when touching a ship. Before the dropping, the operator in charge of this action, had to remove 2 securities, to activate the mine.

On board this twin-engined medium bomber, was a crew of 4 young airmen. The sergeant pilot Oliver Barton James "Jimmy", assisted by the sergeant pilot Millar William Alexander. The radio-operator and observer was sergeant Weir Norman Stewart, aged 21, who can reach, if necessary in case of attack, the machine gunner's position. The fourth member was sergeant Mac Callum Duncan, machine gunner. The flight plan followed by both aircrafts was identical. Once they left Lincolnshire, they flew southward to reach the Channel, that they flew for a long time. Then they turned and headed, as expected, the southern region of Brest, in order to avoid the defense system of anti-aircrafts batteries of the Flak.
The night-mission went without any problem. The aircraft was flying between Callac and Guingamp, when suddenly a violent flash of lightning hit the bomber and destabilized it, which got the crew seriously into trouble. The aircraft was just hit by a lightning. A short section of the report in the archives indicates that the reason of the crash would be a mine which would have exploded during the flight in the aircraft further to an electrical arc caused by the lightning. It is not true according to the following testimony. If the mine had exploded, nothing would have been saved, neither the crew, nor the aircraft. This one ton mine was found in a field close to the place of the crash at approximately 150 meters from the wreck.
The bomber in distress, crashed in the middle of the night in a sunken path, in the area of La Chapelle Neuve. The shock was particularly violent and caused the death of both sergeants Weir Norman Stewart and Alexander William Millar, who were both 21. Two other airmen were hurt. The pilot, Oliver Barton James, has his left arm hurt and is seriously burned. Because of his condition, it was difficult for him to escape. He was captured the next day by the Germans and was sent to the hospital of Morlaix where his left arm was unfortunately amputated. Other airman sergeant Duncan Mac Callum had a finger slightly injured. Hidden at first in a house at Kerfoen, he was then helped by a 25 years old resistant, Miss Marie Françoise Le Roch. Sergeant Oliver Barton James was hospitalized in Morlaix until May 6th, 1941. He left the hospital to join in Germany the Dulag Luft, airmen's prisoners camp located near Franckfurt, where he arrived on May 8th, 1941. The next day, he was sent to the civil hospital of Hohenmark, the hospital of the camp, where he staid until July 29th. In fact his health conditions had required this new hospitalization.
The camp of Frankfurt was a transit camp, and on July 30th, he was transferred to the Stalag IXC at Bad Sulza near Weimar (Land of Thuringia). Together with 56 other airmen of the RAF, he arrived in this prisoners camp which was gathering prisoners coming from all Europe. Because of his handicap, sergeant Oliver Barton James was transferred again on October 2nd, 1941, towards France. Later he reached the barracks Joan of Arc in Rouen (one of these medium-sized camp-jails called Heilag by the occupiers). He found there 14 fellow countrymen who had been injured too. On November 21st, he escaped from this camp together with Sergeant Magrath William but also sergeants Patterson and Maderson, these last two being captured again later. The 2 escapees, despite their handicap, quickly arrived at Les Essarts in the suburb of Rouen, where they met the mayor who recommended them to reach a safe place at "Oiselles sur Seine" on November 24th, 1941, where they were welcomed by fighters. Immediately they were given civilian clothes and a good meal. The same day, they had to take the train to Paris where they found assistance and a safe housing. Quickly they left and went to Nevers where they remained 3 weeks and tried to cross the demarcation line. They finally crossed the line at night on a boat by crossing the Loire river, with the help of a guide. Farther, a car was waiting for them to drive them, always by night, towards a railway station close to a place called "Chemin sur la Fosse". They arrived at Marseille railway station on December 22nd at 6 am in the morning where a woman was waiting for them.
On December 24th, sergeants Oliver Barton James and William Magrath left Marseille for Toulouse then Carcassonne. Then they took the direction of Perpignan where someone was waiting for them at the "Hotel d'Angleterre". There, a guide led them by walking, along the coast via Port Vendre and Banyuls, then towards the Spanish Border where they reached the railway station of Vilajuiga in Catalonia. They paid their guide the amount of 12 000 francs each. In Marseille, their hosts had taken care of giving them enough money. This tiring journey led them to the British Consulate in Barcelona on December 29th, 1941. On March 4th, 1942, sergeants Oliver Barton James and William Magrath left Gibraltar aboard a boat and arrived in Great Britain at Gourock in Scotland on March 7th, 1942.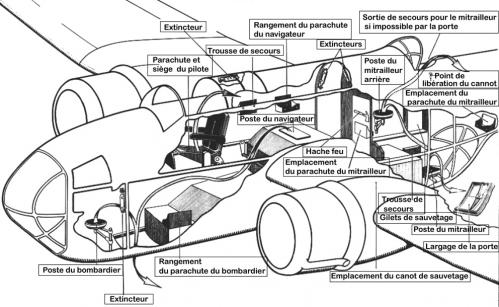 Cockpit of the Handley Page Hampden (document : source unkown)
TESTIMONY MISTER PAUL PATAOU, RESIDENT IN LA CHAPELLE NEUVE
I remember the crash of this aircraft which happened in 1941. The aircraft flew at night and crashed in the path which leads to the farm of Rosquiel. Two of the young airmen were killed immediately. The mayor at that time, Guillaume Lancien, organized their funeral the following afternoon in the municipal cemetery. The Germans, who did not want that the residents of La Chapelle Neuve came to put flowers on their graves, placed German names on the crosses. The British services after the war came to check their remains and transfer them in another cemetery. The crash of the aircraft had thrown a torpedo at 150 meters further, in a field. It was an enormous, long and narrow cylinder. I had come and see the destroyed aircraft. This enormous "torpedo" in the field seemed to worry the occupiers. The next days, they decided to blow it up. The Germans went in the villages around to inform that it was necessary to open the windows and to avoird going in this direction. At school we opened every window and we heard this violent explosion. The next days, I came and realized that there was an enormous hole of about ten meters diameter. In the farm of Rosquiel close to the place of the crash, there were damages. The hole was afterward refilled.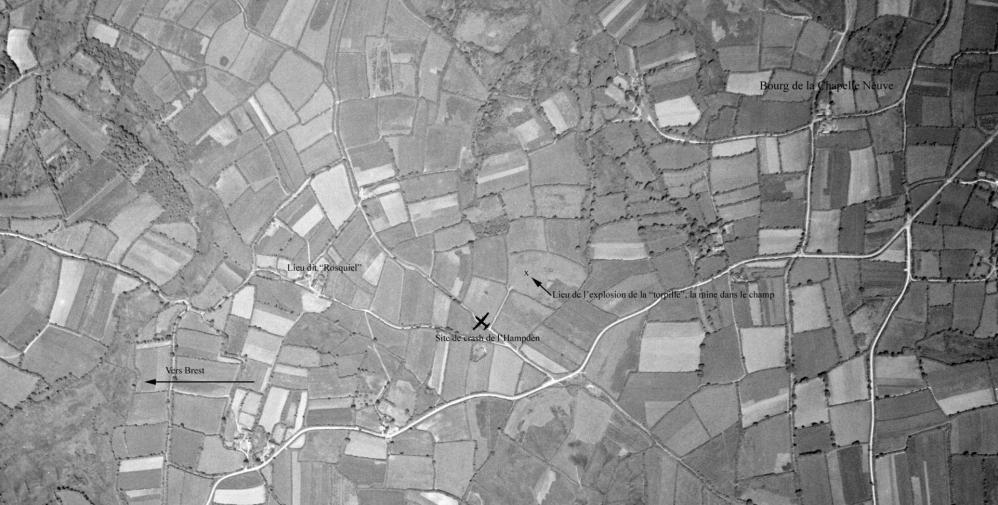 Aerial picture of IGN in 1952, showing the place where the Germans blew up the mine

Death registry in the city La Chapelle Neuve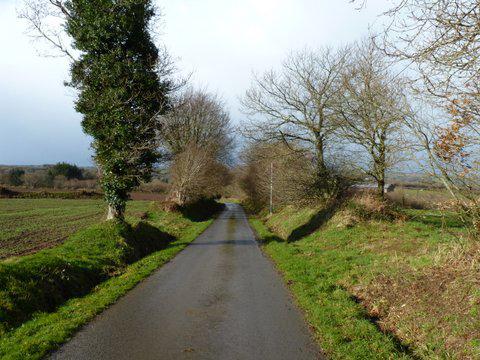 The Hampden crashed on the road close to the first tree on the left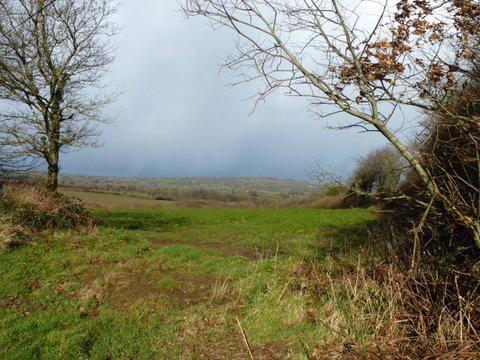 The "Torpedo", the mine, was located on the top of this field
Sergeant Duncan Mac Callum, driven in Lyon by miss Le Roch, continued his escape towards Marseille where he arrived on May 8th, 1941. Taken in charge by a network, he was sent towards Perpignan. He was not alone in his trip, he was accompanied by another sergeant of the RAF, sergeant W H Batho (Royal Artillery). They both arrived to Figueras on May 10th. On the 27th, they were in Saragossa and on June 3rd in Miranda, from where they moved to Gibraltar. On July 4th, 1941, they took a boat to reach Glasgow.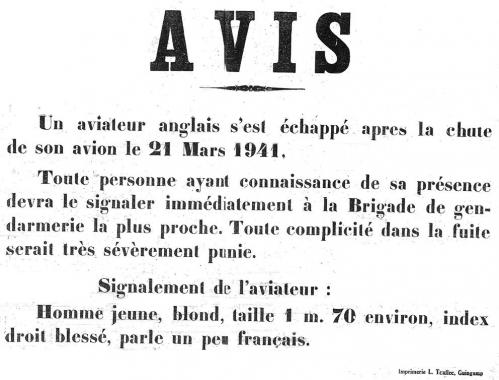 Sergeant James, after his arrival at Gourock in Scotland, informed his superiors about his wish to continue the fight. One pointed out his handicap, his left arm had been amputated, but it did not matters and he showed his strong wish to fly and fight again. Taking into account his courage and his will, his superiors informed him that he would be able to join a fighters squadron and that he would have the possibility to fly again. He received previously an artificial arm.
He quickly received his mission order and learnt that he was assigned to No. 245 Squadron RAF, based at Lympne in the Kent (southeast of England) but also that he got a permission for a few days. Sergeant James was married. He could visit his wife Sylvia as well as his parents who lived in Cookham Dean on the banks of the Thames in Berkshire. Once his permission ended, he reached as expected the RAF base of Lympne in the Kent. Rapidly he was trained to fly with handicap. Everything used to go well and he became operational.
On May 26th, 1942, he learnt that he was awarded the Distinguished Flying Medal, a prestigious award for pilots, as well as he became Flying Officer. The London Gazette dedicated him two small lines, as it used to be usual for each medal-holder. Sergeant James participated in several escort missions of bombers, over Germany but also over France. He discovered Brest which he had not been able to do in 1941. On Sunday, October 4th, 1943, late in the afternoon, over Normandy, he was operating a reconnaissance mission on board his Hawker Typhoon JP434. Suddenly, over Champenard in Eure (northeast of Evreux), he was violently attacked by a Luftwaffe Focke Wulf 190 fighter flown by Feldwebel (Warrant Officer) Siegfried Lemke, from the 1st Staffel (Squadron) of Jagdgeschwader 2, based in Bernay in Eure. (Siegfried Lemke accomplished this day his 9th victory out of 56 at the end of the war).
The Typhoon JP434 was seriously hit and began its final fall. The pilot did not have time to jump. He died in the crash of his aircraft. The German pilot claimed this victory at 5:33 pm. The valiant Flying Officer James was posthumously awarded the military medal. He had achieved 25 missions within 245 Squadron, among whom 24 operational flights, for a total of 161 hours of flight. He was 23 years old.
Flying Officer Oliver Barton James is buried in the Saint-Louis municipal cemetery of Evreux in the department of Eure. As for the body of the sergeant pilot Millar William Alexander, native from Belfast in Ireland, he rests in peace in the British military cemetery of Bayeux. The body of sergeant Weir Norman Stewart, native of the village of Clarkston, in the east of Renfrewshire, Scotland, remains also, as his mate, in the same cemetery in Bayeux.
Testimonies collected by Jean Michel Martin and Daniel Dahiot, on 15th February, 2012.
Thanks to Mister Paul Pataou for his testimony and friendly welcome. Thanks also to Mister Coantiec.
Thanks to Mister Jean Paul Rolland for his help and agreement to publish his writings of Pays d'Argoat 2003.
Thanks for his help to Keith Janes from website Escape Evasion , and for having supplied the escape files of both airmen.
IN MEMORIAM
Bayeux War Cemetery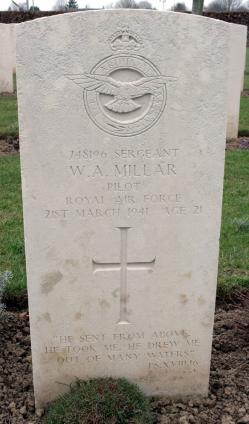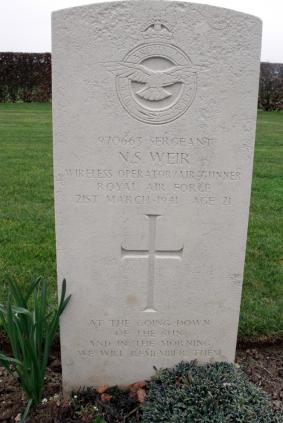 Sergent pilote Millar William Alexander Sergent Weir Norman Stewart
aged 21, grave VIII. C. 11. aged 21, grave XVIII. F. 20.
In the press !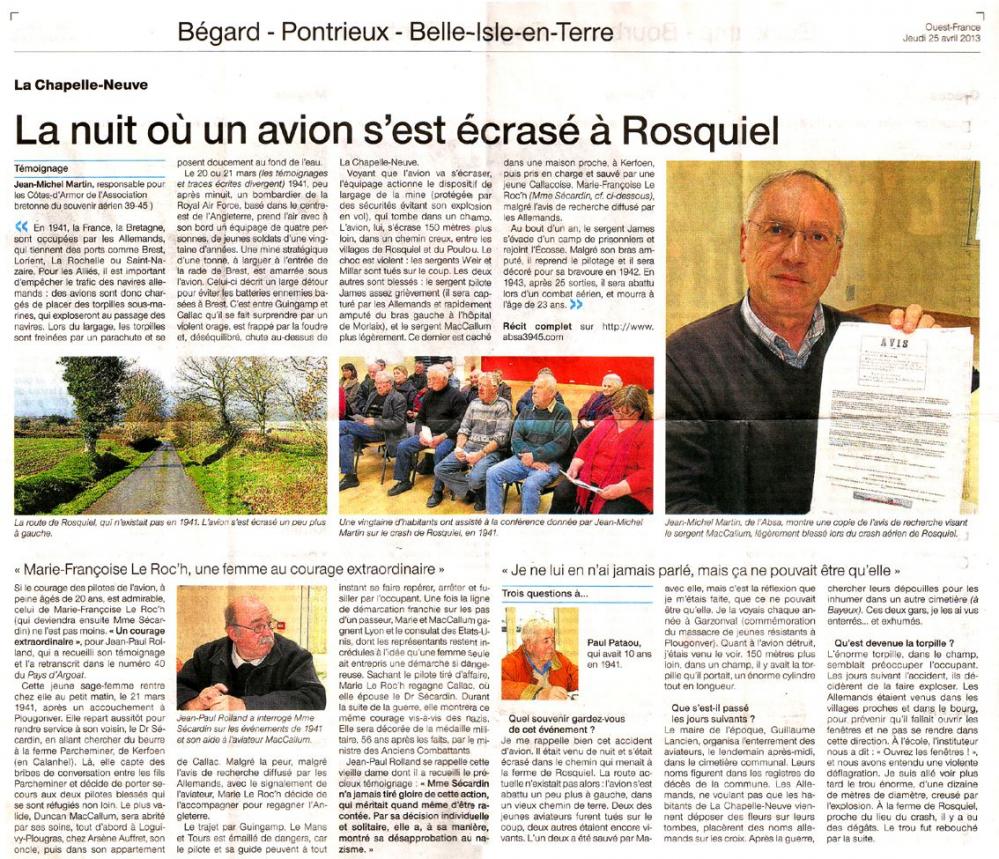 Ouest-France - 25th April, 2013