21st May 1944
Supermarine SPITFIRE LF Mk IXC
MJ907 (code DU-A)
Laurenan/Saint Jacut du Méné (22)
(contributors : Philippe Dufrasne, Jean-Michel Martin (ABSA 39-45), Frédéric Hénoff (ABSA 39-45), inquiry by Jimmy TUAL, member of A.F.M.D. 22 and ABSA 39-45)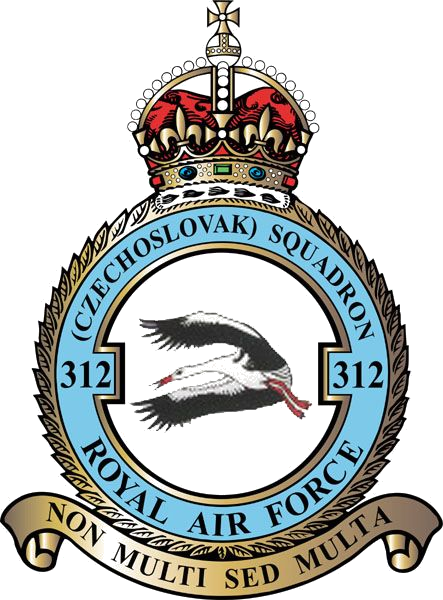 312 (Czechoslovak) Squadron RAF
"NON MULTI SED MULTA'"
"Few men but many acts''

Pilot :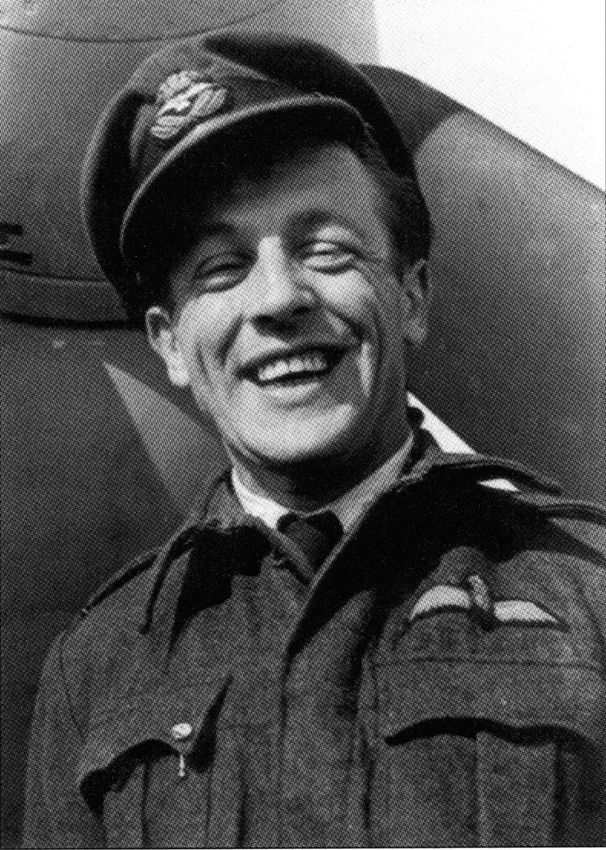 Warrant Officer. OSSENDORF Robert
312 (Czech). Royal Air Force Volunteer Reserve (Escaped)
THE STORY
Sunday 21st May, 1944. Laurenan, Saint Jacut du Méné, Côtes d'Armor.
Forced landing of a Royal Air Force Spitfire flown by Warrant Officer Robert Ossendorf of No. 312 (Czechoslovak) Squadron (RAF).
Historical context : on September 29 and 30, 1938, the "Munich agreements" were signed between German Chancellor Adolf Hitler and English Prime Minister Neuville Chamberlain, as well as the President of the French Council who was also Minister of Defense, Edouard Daladier. The Italian dictator Mussolini was present, appointed by Hitler as observer. It should be noted the absence of Czech President Edvard Benes, however directly concerned by this agreement because the Third Reich required the annexation of Sudetenland to Germany. It will be granted to him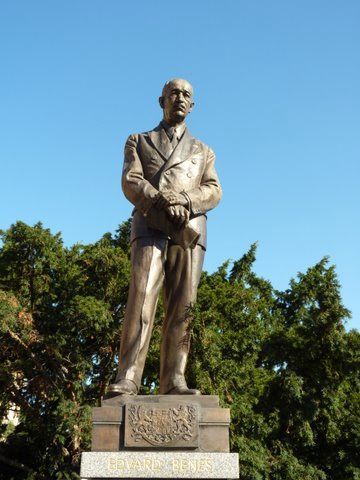 Statue of Edvard BENES in Prahia
The secretary of the Communist Party of the Soviet Union, Joseph Stalin, was not invited. This agreement ended the so-called "Sudetenland" crisis and signified the end of Czechoslovakia. Neither France nor England wanted a war in Europe which prompted them to sign this peace agreement. France had signed a treaty of alliance with Czechoslovakia on January 24, 1924. This treaty of the Munich Agreements was only pure utopia since Hitler violated this agreement on March 15, 1939 by massively invading the whole Czechoslovak territory. In this country 4,000 soldiers refused to be in this desperate situation. They did not want to see their nation fall under the blows of this German dictator. There were not enough of them to organize a response. The only solution for these young men was to escape, and to tink about a reorganization in a friendly country. For these soldiers, exile begun. Many of them initially joined France but also the French colonies. Others went straight to England. Often the escape path was long and difficult, and dangerous too ; The goal was to reach Polish ports for embarkation if possible, often in perilous conditions. Many of them travelled in freight wagons, including those carrying coal. All this over a distance of about 600 kilometers. Among these young Czechoslovak soldiers were a few airmen, most of them already used to flying, others who only had initial trainings. Let's take a look at one of them. The Warrant Officer pilot Robert Ossendorf born July 29, 1916 in Všeruby near Plzen (North of the Czech Republic). Enlisted in the 312nd Czech Squadron in the Royal Air Force, registration number: 787590 (189 192). He was 24 years old. Warrant Officer Ossendorf quickly left his country to join France. He reached the Istres Air Base, in the Bouches du Rhône (southern France), where he completed additional pilot training, having already learned to fly in his country.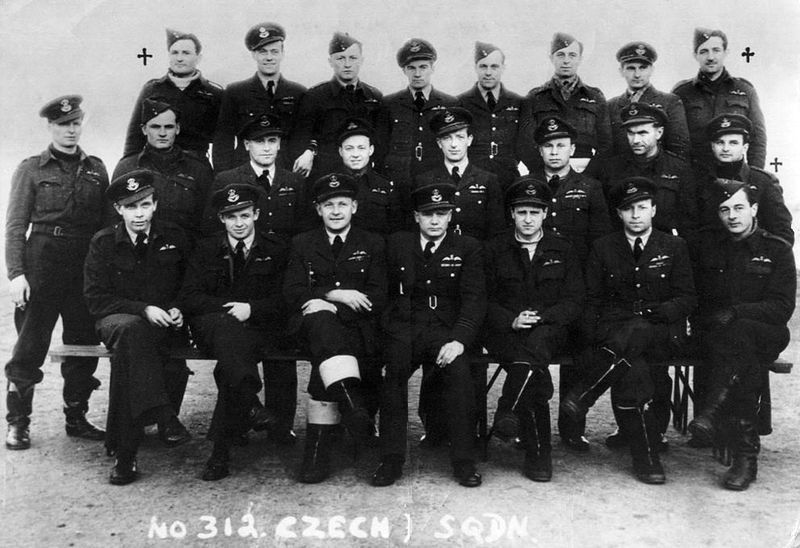 Warrant Officer OSSENDORF, at the back,second from left.
He was enlisted on October 2, 1939. In May 1940 several Czech airmen fought with the French Air Force during the Battle of France. It is not possible to find any trace of his participation in these fights, but we may think due to the fact that at the end of the war, he was awarded the French "Croix de Guerre" (War Cross) with palms. As the German invasion of French territory intensified, the French Armed Forces left our country to be able to respond to General de Gaulle's call (June 18, 1940) and reorganize elsewhere. The Czech pilots did the same. Warrant Officer Ossendorf arrived in Casablanca, Morocco, June 28, 1940 with 187 Czech soldiers. He left this harbour to reach England via Gibraltar on board the '' Gib El Dersa '', a merchant ship belonging to the company Maritime Midland and Scottish Railway (LMS). After a few days of stopover in Gibraltar, on July 5, 1940, they returned to England aboard the "Cidonia". They arrived in Liverpool on July 16 after 11 days at sea without incident. Immediately the group of airmen joined the base at Duxford in Cambridgeshire (abbreviated Cambs), where they again received training adapted to the piloting of Hurricane fighters. The 6 Czech squadrons actively participated in the Allied combat strategy. Assigned first of all to the surveillance and the protection of the maritime base of Scapa Flow (north of Scotland), they also participated in the great events of the Second World War, the landing of Dieppe, D-Day… These squadrons changed regularly their bases with the evolution of the conflict. On Sunday May 21, 1944, Warrant Officer Robert Ossendorf was appointed for a reconnaissance mission, called Ramrod 905, an armed reconnaissance mission with attacking enemy targets at random.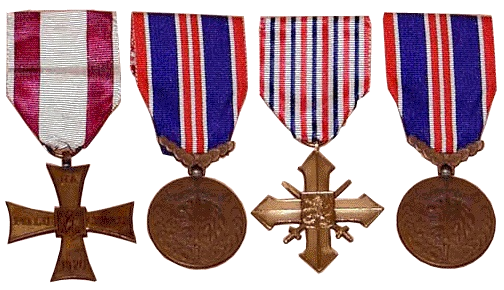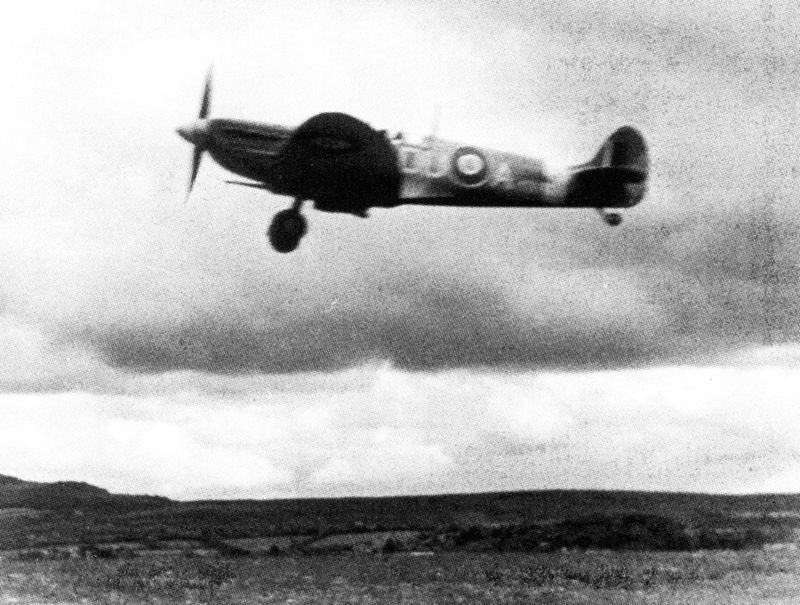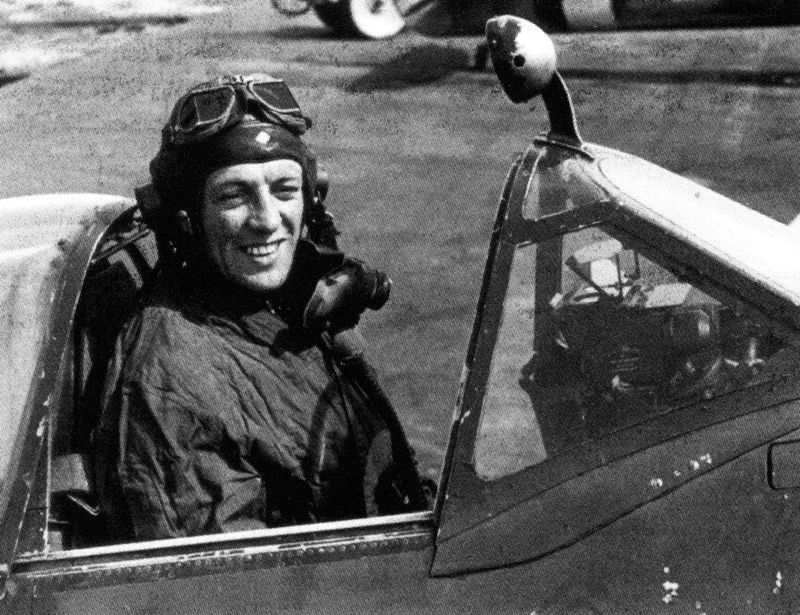 Robert OSSENDORF flown his Spitfire LF.Mk.IXC (MJ907) code DU-A. Twelve pilots of the 312 joined by pilots of the 310 and 313 (a total of 37 Czech pilots) fought over France. All took off from the base of Appledram, Sussex, South East England.
Crossing the Channel worked without a hitch. Warrant Officer Ossendorf has received his mission, which began near Le Havre in Seine Maritime. He knew that the air defenses were particularly intense for the protection of the harbour. When suddenly his aircraft was hit by a German shell when diving to attack an enemy target east of the city. His mission continued because he did not notice anything that could trouble the smooth running of his "Spit". As expected, he headed for Caen, then Cherbourg, from where he started a descent down the Cotentin. Then he flew towards the center of Brittany. But suddenly, what happened ? Was he hit again ? After the impact of this shell, did the aircraft end up with a major problem ? No answer. He was obliged to make an emergency landing in occupied territory. Warrant Officer Ossendorf had already to cope with this kind of situation. On January 26, 1942, during a training flight over England, he encountered a serious engine problem which forced him to land in a field. On May 21, 1944, when he was again facing the same emergency, he was over the city of Laurenan, Côtes du Nord at that time. It was about 12:30 p.m., 1:00 p.m. The pilot turned in circles, looking for a meadow where he could land. After a brief spotting, he lost altitude and, at a place called "La Grande Lande", near the village of "La Sauvagère", landed his aircraft in this long meadow parallel to the stream called "Le Ninian". The aircraft touched down, causing damage to the landing gear as one wheel was broken. The pilot was OK except for an injury in the palm of his hand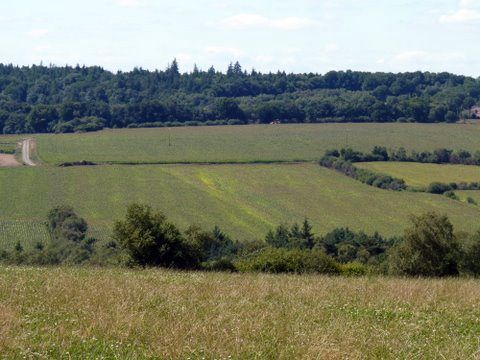 Warrant Officer Ossendorf's "Spit" landed parallel to the hedge down here. Top right the village of "La Sauvagère"
TESTIMONIES

Mister Lessart
It was sunny. We saw this aircraft turning, very low, probably looking for a place to land, and then nothing. It was midday. Above the small valley of the "Ninian". The Germans arrived very quickly, preventing us from approaching. They even shot people who were coming in the distance, without hitting them fortunately. Warrant Officer Ossendorf immediately got out of his cabin. During his forced landing, he was injured in an arm and, with his other hand, he took his colt and escaped before the arrival of the Germans. He quickly rushed to the nearby village of La Sauvagère. The inhabitants gave him a way to escape because soon after, the enemy was there. The pilot had taken cover in the thickets and then started to escape north, along the stream. The Germans searched and searched the area, they even searched for the aircraft wheel for a very long time, even in the houses, without finding it. Probably with the shock, it was thrown away in the thickets. The Czech pilot was alone in this Breton country. He had to put into practice what he'd been taught about survival in enemy territory. After walking and hiding, he arrived at the village of "La Hutte à l'Anguille", near the Saint-Louis chapel. He walked into a farmyard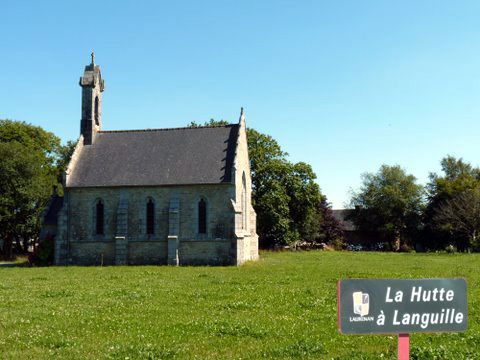 "La Hutte à l'Anguille", near Saint-Louis chapel
Mrs Even, born Mounier
Nous avons été surpris de voir cet homme jeune arriver chez nous dans cet accoutrement. Nous avons eu très peur. Notre père était très inquiet et quelque peu désemparé dans cette situation imprévue. De plus il ne parlait pas notre langue. Comment se comprendre ? Rapidement, mon père dit à ma sœur, plus âgée que moi, de le guider, de le faire traverser la route proche, qui de plus était très fréquentée par les allemands, et ensuite le conduire un peu dans la campagne en dehors du village. Ma sœur le quitta dans un champ près du chemin menant au village du "Beaujaune" en Saint Jacut du Mené, ma sœur revint et dit à mon père qu'il était parti.
We were surprised to see this young man coming to us in this outfit. We were very scared. Our father was very worried and somewhat distraught in this unforeseen situation. Moreover, he did not speak our language. How to understand each other ? Quickly, my father told my sister, older than me, to guide him, to make him cross the nearby road, which was also very crowded with Germans, and then to drive him a little in the countryside outside the village. My sister left him in a field near the path leading to the village of "Beaujaune" in Saint Jacut du Mené, and my sister came back and told my father that he was gone
Mrs Guillot
We ran a farm in the village of "Beaujaune". It was the war. My father was a prisoner in Germany. We helped our mother, despite our young age, with everyday tasks. That day, I remember it like it was yesterday. I had just led the cows through the path that led to "La Hutte", in one of our meadows about 500 meters from here. I closed and just started my way back home when I heard footsteps behind me ; I was very scared. I turned around, and saw this tall, young man that I didn't know. He was wearing clothes that I had never seen. I didn't move any more, he walked towards me and spoke in a language I didn't know. I just understood the word 'Hutte' that he said several times. In reality he told me he came from this village, but I did not understand him. I pointed him in the direction of the 'Hutte' and he left through the embankment along the path which, at that time, was not the current beautiful road. I was very surprised, some time later in the afternoon, to see him walking through our village in the company of a resistance fighter, Mr Pierre Rétif. He spoke to me, in his own language, but I could understand that he was telling me that I had advised him badly. I was sorry, but when you don't speak the same language, it's not easy
In fact, the pilot walked back in the yard of Mister Mounier's farm at the "Hutte". The latter again worried to see him back, and called a resistance fighter so that he could hide him. Mr Pierre Rétif took him to Mr Joseph Rouxel, a farmer in "Beaujaune", to see if he could accommodate this pilot for a few days, just to have time to find a solution.
Meeting with Mrs Simone Poilvert (100 years old). This pilot was Czech and was looking for a refuge after his plane crashed in our region. The resistance fighter Pierre Rétif introduced him to my grandfather, who told him "that he was not afraid of the Jerries" and that he could stay with us. I remember, he was 28 years old, he had burned everything in our home, including his clothes, his equipment, his cards… everything ! He immediately put on my husband Francis' work clothes. He remained with us for three weeks. We lived in fear of being discovered and shot by the Germans. There was no question of leaving this young man without protection, without food and without shelter. He hid in our attic during the day, and at night slept in the cellar. He always watched the passing aircrafts, and there were many of them at that time. I remember he wanted as soon as arrived if there was a door to escape from the back of the house. A false identity card was issued to him.
Note the courageous approach of this family who did everything to protect this pilot, and was exposed to the risks of this troubled time. When we met, I showed Mrs Poilvert a picture of the pilot, Mrs Poilvert's face filled with emotion, "yes, that's him," she said, "I had never seen him again".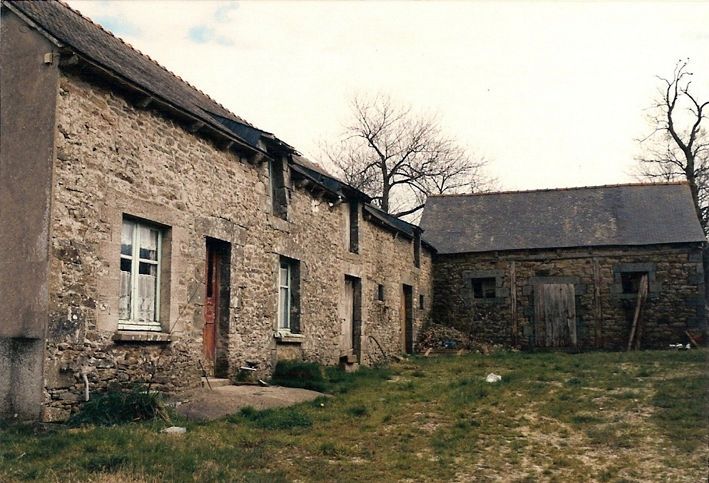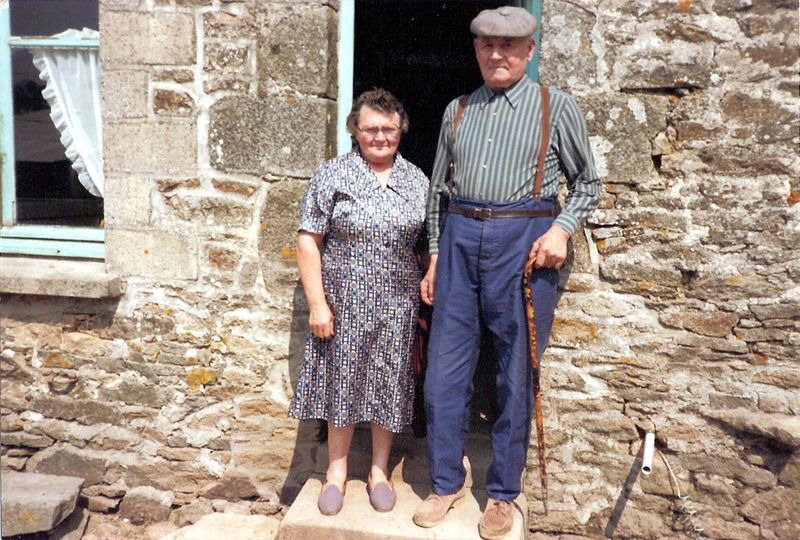 Mr et Mrs Poilvert at the farm of "Beaujaune"
Mrs Guillot remembers the discreet presence of this airman at the "Beaujaune". I remember seeing him cutting clover with Francis Poilvert, he also sometimes led the horse by the bridle. Mr Léon Poilvert remembers the arrival of this pilot, it was a Sunday. At the end of the afternoon we returned home after having attended the "Confirmation" of my brother in the church of 'Saint Jacut du Mené'. My grandfather announced to us "We have an Englishman at home". We were very surprised. Mrs Simone Poilvert talked about the wound he had in the palm of one hand. He was treated during his stay with us. The children knew the English presence as they said, but no one spoke. We had to find a solution so that this pilot could leave our home because the risks were enormous. Contacts were made with Father Poilbout, rector of 'Saint Gilles du Méné', who was an active member of the resistance. A solution was found. After these three weeks spent with us, Robert, still dressed with work clothing, left by bike accompanied by a resistance member, Marcel Josse. He joined the resistance group of Moncontour headed by Félix Veillet Deslandelles. He was leading several sections. On Saturday June 24, 1944, Warrant Officer Ossendorf was in the company of a resistance fighter, Jean Kervella, in the village of "Vaulorin en Trédaniel". Suddenly, around the crossroad of the cross, they saw a group of about thirty Germans resting on the edge of the road that goes from Moncontour to Collinée. They decided to attack them by surprise. They were only two. It was shortly before 10 pm. They opened fire. The Germans retaliated and opened fire too. A German non-commissioned officer was killed and lied down in the middle of the crossroad, his body was laid in the church of 'Trédaniel' at the end of the evening. It was then removed by the Germans the following morning, on Sunday, during the mass (Hans Arand, 33 years old, was born on May 3, 1911 in Tossens - Wilhelmshaven - report from the gendarmerie, departmental archives of Côtes d'Armor kindly entrusted by Mr. Alain Gallais).
Warrant Officer Ossendorf was injured during this fight ; he received a bullet in the hip. The ball came in from behind. The two resistance fighters escaped. The Germans were looking for them. Resistance fighters were helped by the population. They found a safe refuge, and the wounded man was treated by a resistance member, Aïde Richard, nurse and liaison officer for the 'maquis' ('Croix de Guerre' with silver star, medal of the Resistance (CVR). On June 28, he was directed to the Manor house of 'Bréfeillac en Pommeret', where Madame Lucienne de Ponfilly welcomed him among the hundred men she hid in the forest around her Manor house. An act of courage by this woman who, helped by the resistance, ensured that these men could hide and then be saved.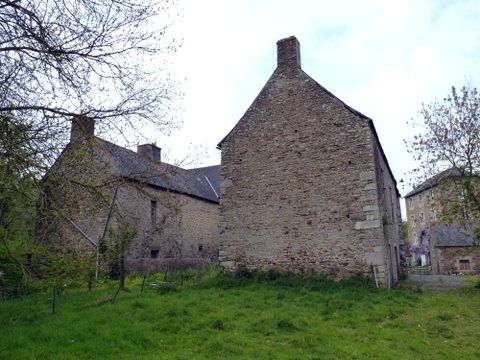 The Manor house of Brefeillac where Robert Ossendorf was treated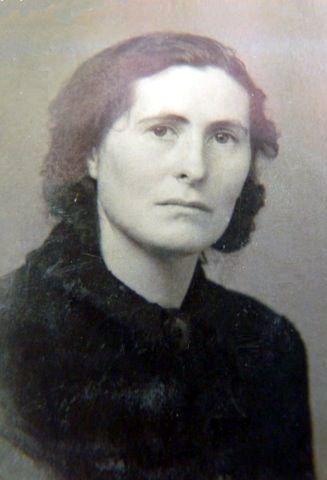 Mrs Lucienne Péan de Ponfilly
Mister de Ponfilly
There was only one surgery performed here during the war. My mother was hosting a Czech pilot who was shot in the hip during a fight. Doctor Darcel de Broons, who regularly came to see the sick persons here, practiced the removal of this bullet lodged in his hip. Everything went well but the pilot was initially refused for a departure by Plouha, by the Shelburn network with two American pilots. He left, I believe, in the following departure.
The return of Warrant Officer Ossendorf was well reported on July 29, 1944 in England. It reported that he returned by boat with other escapees. He returned to his Czechoslovakia in August 1945 and he was affected in Prague. On October 5, he was decorated with the 3rd and 4th Czechoslovak War Crosses. On his return he asked to change his last name. This was granted to him on October 8, 1946 by the authorities of his country, when he was still active in the 312nd Squadron. From that moment his name became Osenský Robert, and he was demobilized at the end of 1946. Returning to civilian life, he found a job in a civilian airline, the CSA. He settled in the south in Ceské Budejovice. In September 1948 he crossed the border illegally and joined the German immigration camp at Schwäbisch Gmünd near Stuttgart (Baden-Württemberg). He then joined England where he is believed to have worked in the intelligence service. He died on February 1, 1955 at the age of 39. It is difficult to say whether he died in this country and from what cause.
I would like to thank the Poilvert family, Mister and Mrs Even, Mrs Guillot, Mister and Mrs Bedel for their help and testimonies. Thanks also to Jiri Trojan, Czech historian, residing in Pardubice (Czech Republic). Thanks to Mr Alain Gallais. Thanks to Mr De Ponfilly for his welcome and his testimony.
Jean Michel Martin. Association Bretonne du Souvenir Aérien 39-45, 27th August 2010. Photos : Jean Michel Martin.
Documents sources : Jirí Trojan
1. J. Rajlich: On the Albion Sky, part 5, page 258, 272, 273, 274-21.5.1944 the most black day in history of Czechoslovak Wing, Ramrod 905
2. J. Rajlich: On the Albion Sky, part 7, page 672
Web file, Daniel Dahiot
In 2014, Jimmy Tual, from the organization "Friends of the Foundation for the Memory of Deportation" (A.F.M.D. 22), met Madame Suzanne Goré in "Saint-Vran". Her father, Eugène Moulin, born in 1900, had been missing since 1944 and she thought he may have been deported. Jimmy Tual took over the story from the beginning in relation with Jean Michel Martin of ABSA 39-45. Then in August 2020, Jimmy Tual and Frédéric Hénoff (ABSA 39-45) completed the biography of Robert Ossendorf with new information. Here is the result of their investigations :
The Moulin family was however worried, probably victim of a denunciation. The S.D. (German security service) of Saint-Brieuc arrived at "La Haie" on June 29, to arrest the father Eugène and the son Robert. The farm was burnt only Eugene was captured. He was taken the same day to the German quarter of the Saint-Brieuc prison. On the prison registers, 18 men including Eugene are indicated as being transferred on July 10, 1944 at 6.30 am to Rennes. 17 bodies were buried on July 10, around 8 am, in the woods of 'Malaunay' in 'Ploumagoar'. Eugène Moulin's body had never been found. His name is still written on the monument of the executed in Malaunay, considering that he left with the 17 others.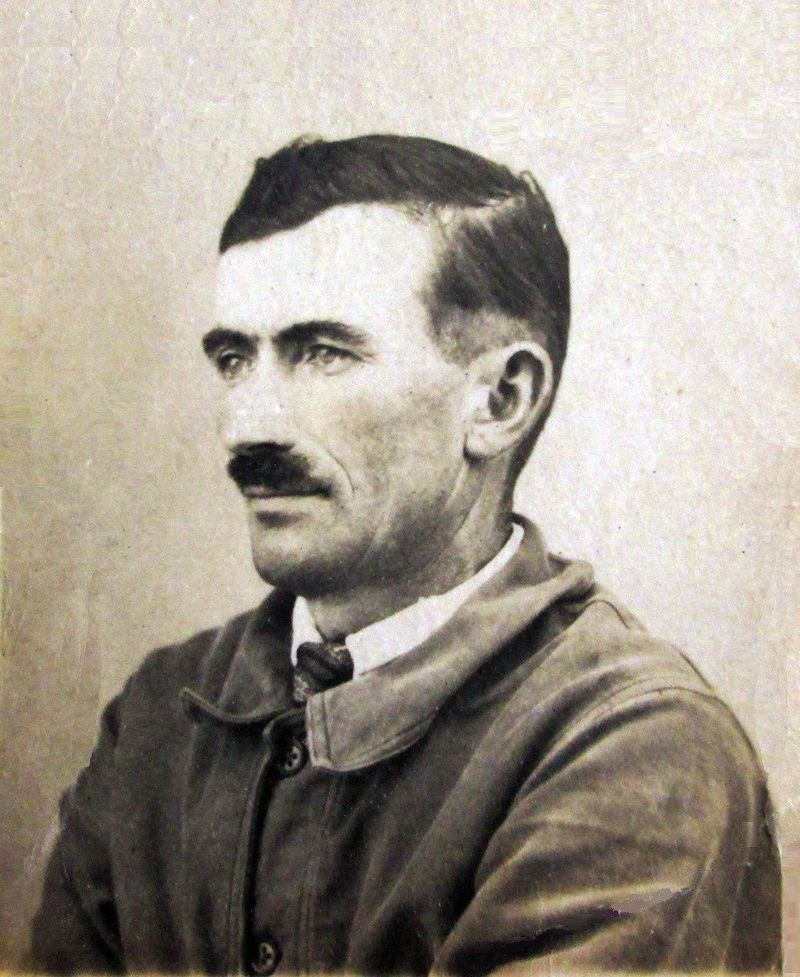 Eugène Moulin
In 2015, Jimmy Tual consulted documents from the Departmental Archives of Côtes-d'Armor concerning the town of Plélo and studied again a document already consulted in 2012. It was reported by the Gendarmes the discovery of the body of an unknown man, shot down by the Germans on July 9, 1944 and found soon after. Rarely, the file includes a photograph of the bodies. But this time, an obvious resemblance surprised him. This man looked a lot like Eugène Moulin. All the people contacted noted this astonishing situation with the same surprise. His daughter and his nephews were contacted and formally recognized Eugène Moulin, with the emotion that we can imagine.

The body discovered in Plélo on July 9th, 1944
A long process had been launched with the Public Prosecutor of Côtes-d'Armor, based on a meticulous historical investigation that it is not possible to detail here. But there were many similar information (physical elements such as size and clothing elements)
Let us compare below the main information we collected on Eugène Moulin and the unknown body found on July 9, 1944 in Plélo. I made the similar elements appear in bold
Information on Eugène Moulin (44 years old) at the time of his disappearance

Information on the unknown body of the 9th July

Height : 1m61 (1)

On July 8, his wife brought him a last supply package and a laundry package at the Saint-Brieuc prison. "He kept the supply package and as linen, he kept a shirt, a flannel, a burgundy wool sweater, a handkerchief, a hand towel and he gave back the linen he did not use"(2)

After his disappearance, his family described his outfit to the Red Cross. He was dressed in "dark green velvet pants and a blue, used moleskin jacket, he was wearing big high-rise shoes and burgundy socks, a white shirt striped with blue and counting many pieces, a flane. (3)

Height : 1m65 environ

The man was about forty years old, he measured 1m65, he was brown. He wore a blue cotton overcoat from the brand "Mont-Saint-Michel", a blue striped shirt, a new brown wool sweater, brown velvet pants, new shoes with studs (a pair of studded shoes), at the end of each shoe were 5 large "cow teeth" nails (4).

It is the date reported in the register of Saint-Brieuc prison (July 10th) that has misled everyone since 1944. At the beginning of December 2017, the unknown of Plélo was finally recognized as being Eugène Moulin on date of June 12th, 2017. A mystery cleared up and a possible mourning for a family.
In 2016-2017, two 10th year classes from the Per Jakez Helias secondary school of Merdrignac worked with Jimmy Tual over this period by carrying out a historical investigation into the disappearance of Eugène Moulin by going in particular to the Saint-Connan museum, in "La Butte Rouge" at L'Hermitage-Lorge and at the Departmental Archives as part of the Return to the sources of archives system. This year 2017-2018, a new inter-disciplinary work was carried out with three 10th year classes more focused on the airman's career as part of the CNRD. Jean Michel Martin also came each time to give a conference for the students to present Robert Ossendorf's career.
(1) Eugène Moulin registration form, year 1922, Sant-Brieuc office, registration number 115.
(2) ADCA 165J2 Canton de Merdrignac, report of the French Red Cross on the Eugène Moulin affair certified by several witnesses and the mayor.
(3) ADCA 165J2 Canton de Merdrignac, report of the French Red Cross on the Eugène Moulin affair certified by several witnesses and the mayor.
(4) ADCA 2W80 Municipality of Plélo, report n ° 249 of the Gendarmerie Brigade of Châtelaudren of July 9 and 10, 1944.
Summary of the investigation conducted by Jimmy Tual, member of the A.F.M.D. 22 and the ABSA 39-45, January 2018
THE LIFE OF ROBERT OSSENDORF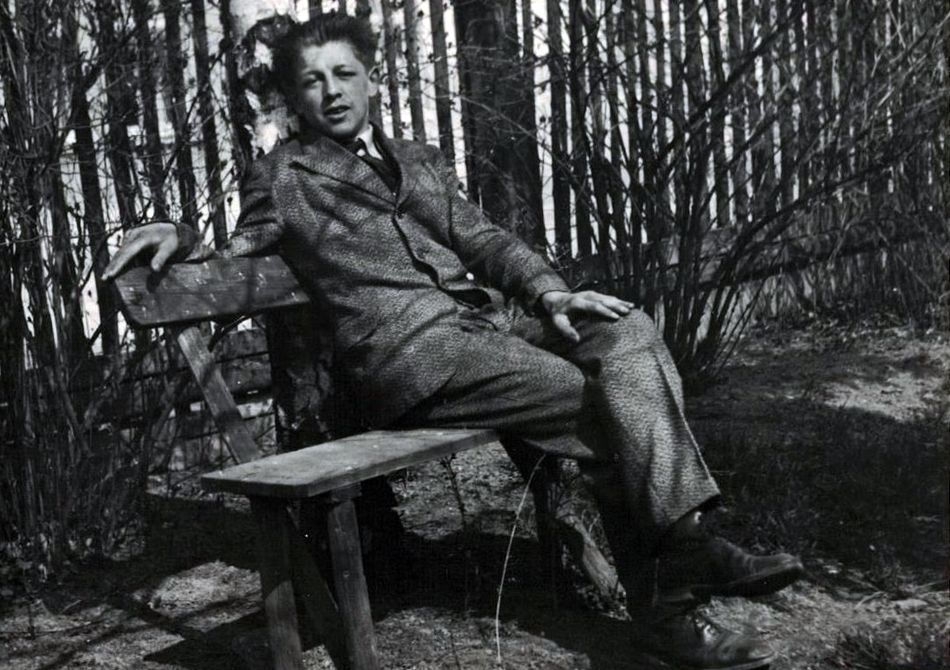 Robert Ossendorf (Source : © family Ossendorf - John, via Jimmy Tual).
Robert Ossendorf was born on July 29, 1916 in Všeruby in Czechoslovakia, near Plzen, in the north of what is now the Czech Republic. He was the son of Viktor, police sergeant, and Martha. The couple had five children. After Martha's death, her father remarried Emilie Kroft and a sixth child was born, Eliška. Robert began primary school in Všeruby in 1922 and then entered the equivalent of secondary level in 1927 at Vysoké Mýto.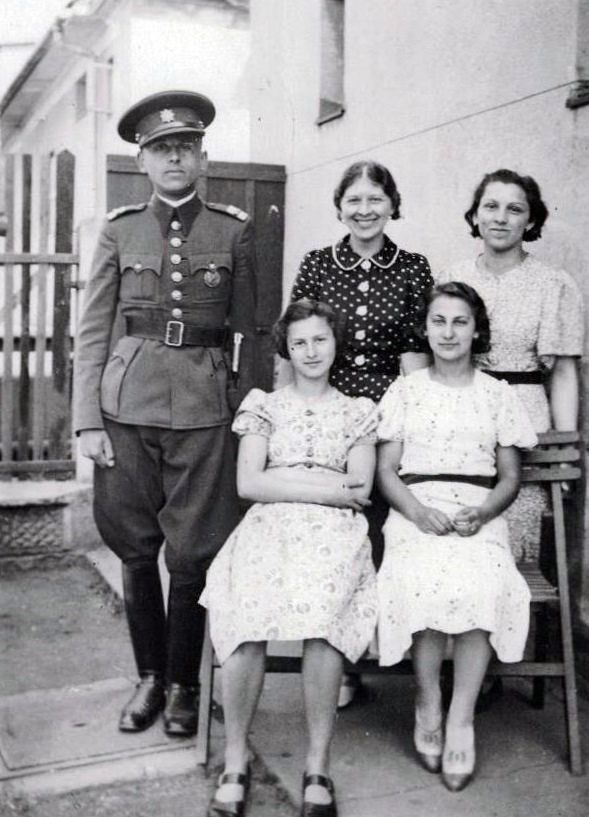 Robert Ossendorf with his sisters Emilska, Vera, Eliska et Miroslava (Source : © family Ossendorf - John, via Jimmy Tual).
In 1929, the family moved to Holešov where Robert worked as the head of a police office. Robert then joined another school in Holešov for two years. He then began to work as a salesman in the Olomouc grocery store. In 1936, he began to attend the local flying club and took flying lessons. In September 1936, he went to the Prost?jov military training center until 1938.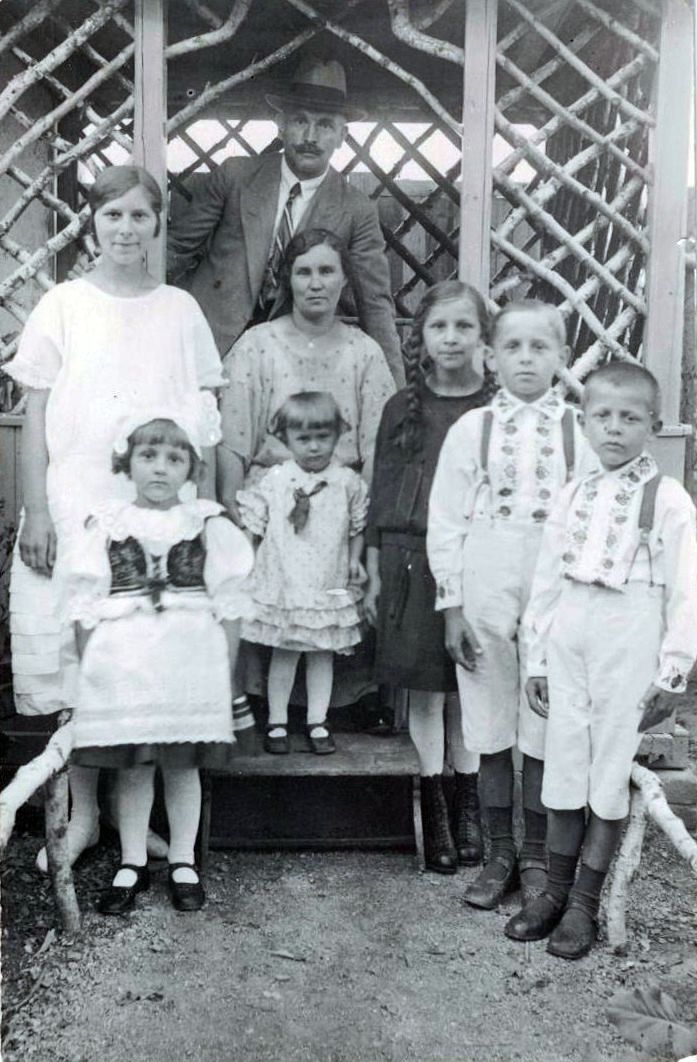 Viktor Ossendorf with his second wife Emilie and their children. The youngest Eliska with her mother. The elder, Emilie, is on the left with her sister Miroslava. On the right Vera with her quilts, Richard and Robert on the far right. (Source : © family Ossendorf - John, via Jimmy Tual).
On March 15, 1939, Adolf Hitler invaded Czechoslakia, thus violating the Munich Agreement signed on September 30, 1938 between Germany, France, the United Kingdom and Italy. Like 4,000 soldiers, Robert Ossendorf refused to accept this invasion. These determined men thus tried to join France or the United Kingdom to continue the fight. The journey was perilous to first reach the harbors of Poland. Robert Ossendorf refused this annexation. He left the country and crossed the Polish border on June 15, 1939, went to Krakow then embarked on July 29, 1939 at the harbor of Gdynia towards France. On September 1, 1939, he was registered with the Air Force group in Agde (Southern France). He was assigned to the Air Force school in La Rochelle (17). From January 18 to May 15, 1940, he joined the Air Base of Istres (Southern France) where he attended additional pilot training.
On May 21, 1944, the Czechoslovakian airman Robert Ossendorf, known as Bob, carried out a reconnaissance mission with attacking enemy targets at random (Ramrod mission 905) aboard his Spitfire Mk IXc. His aircraft was hit around Le Havre. He did not noticed any serious problem and went on flying towards Cherbourg, Caen then Brittany. But he then had to operate an emergency landing alongside the "Ninian" at "La Sauvagère" in Laurenan. He managed to escape and avoided to be captured. After a night hidden in a wood, he headed for "La Hutte à Languille". Helped by the Mouniers and the Resistant Pierre Rétif, he was hidden by the Poilvert in "Beaujaune" in Saint-Jacut-du-Mené. He stayed there until June 20. A group of Resistance fighters then came and looked for him. They went to the "Moulin à La Haie" in Saint-Vran. The son, Robert (1924-2010), was linked with the Resistance. The Resistance fighters wanted to settle in the farmyard. The family protested but the chief imposed this decision and gave him a requisition form. The group of Resistance fighters left the following afternoon. The airman was helped by the O.R. 14 in Moncontour ("maquis des Salles" in Hénon, decimated on July 9, 1944) then in Bréfeillac at Pommeret and was evacuated by the Shelburn Network in Plouha on the night of July 12 to 13, 1944.
In 1945, an extract from the ORB (Operation Record Book) of No.312 Squadron mentioned the return of Robert Ossendorf "at home"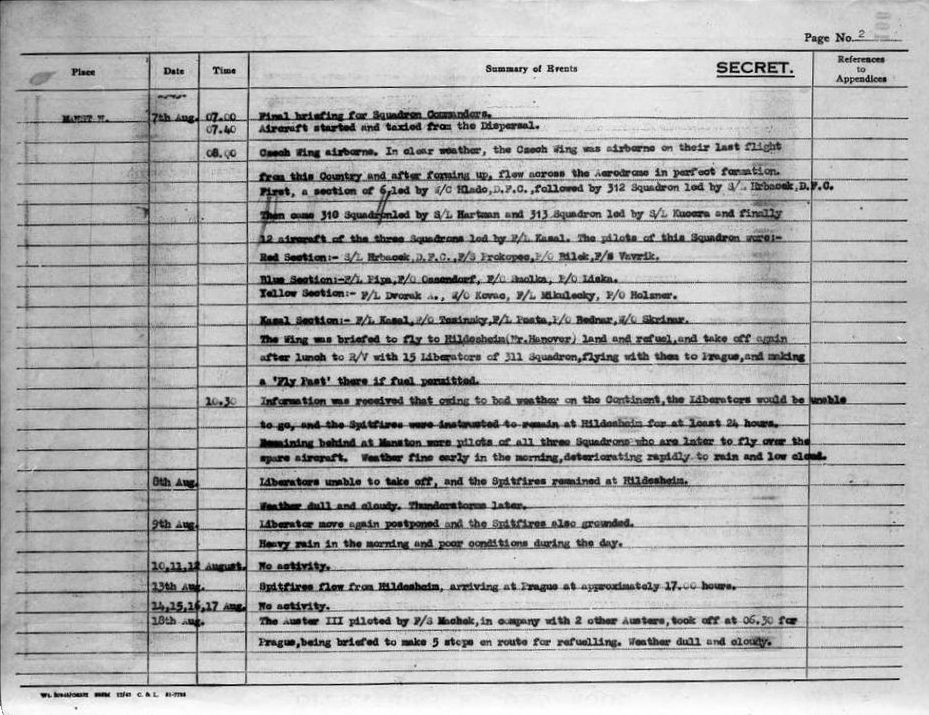 Extract of the ORB of RAF Squadron 312
(Source: ORB No312 Sqdn, June to September 1945 - The National Archives' reference AIR 27/1694/35 via Frédéric Hénoff, ABSA 39-45)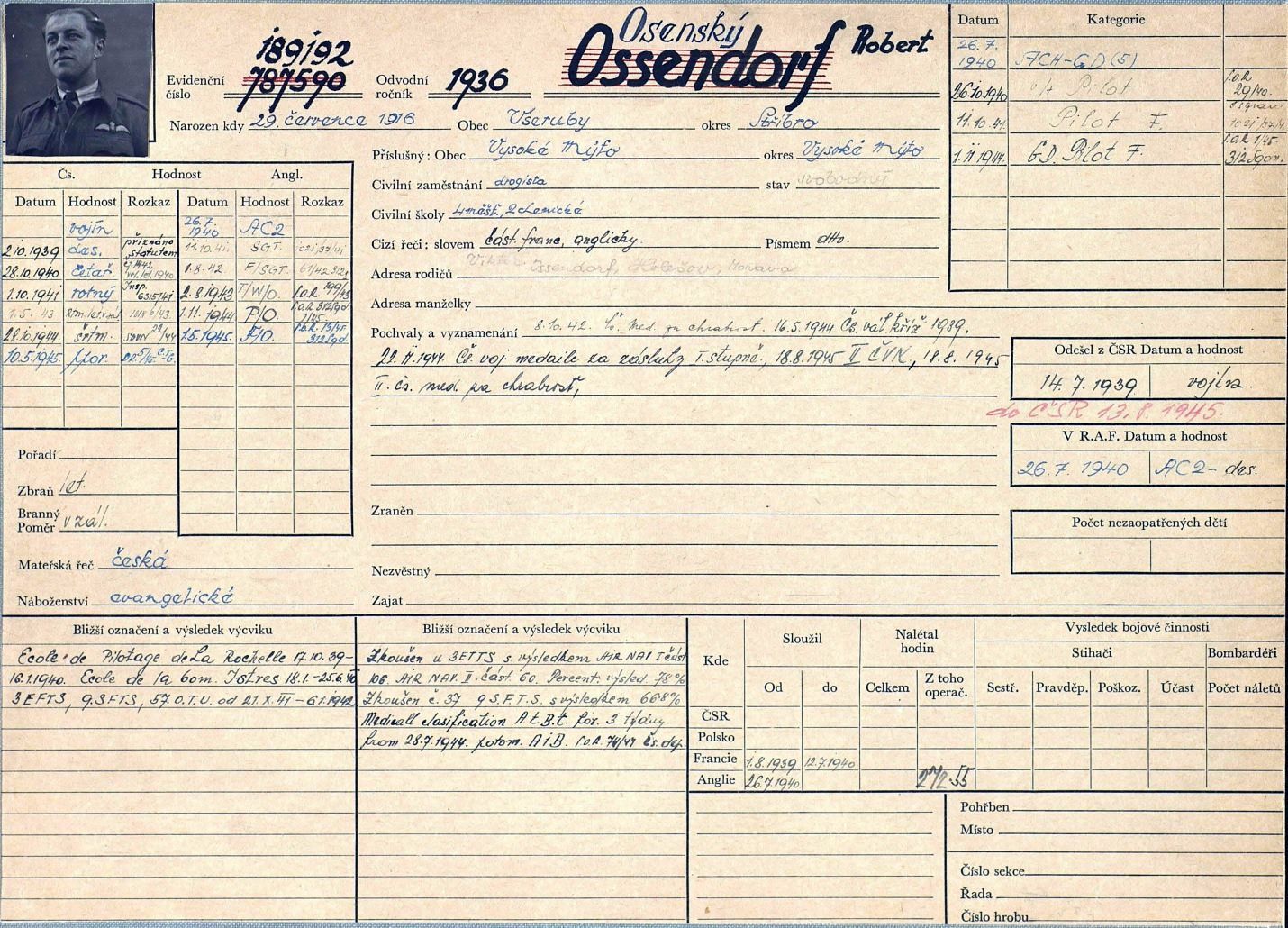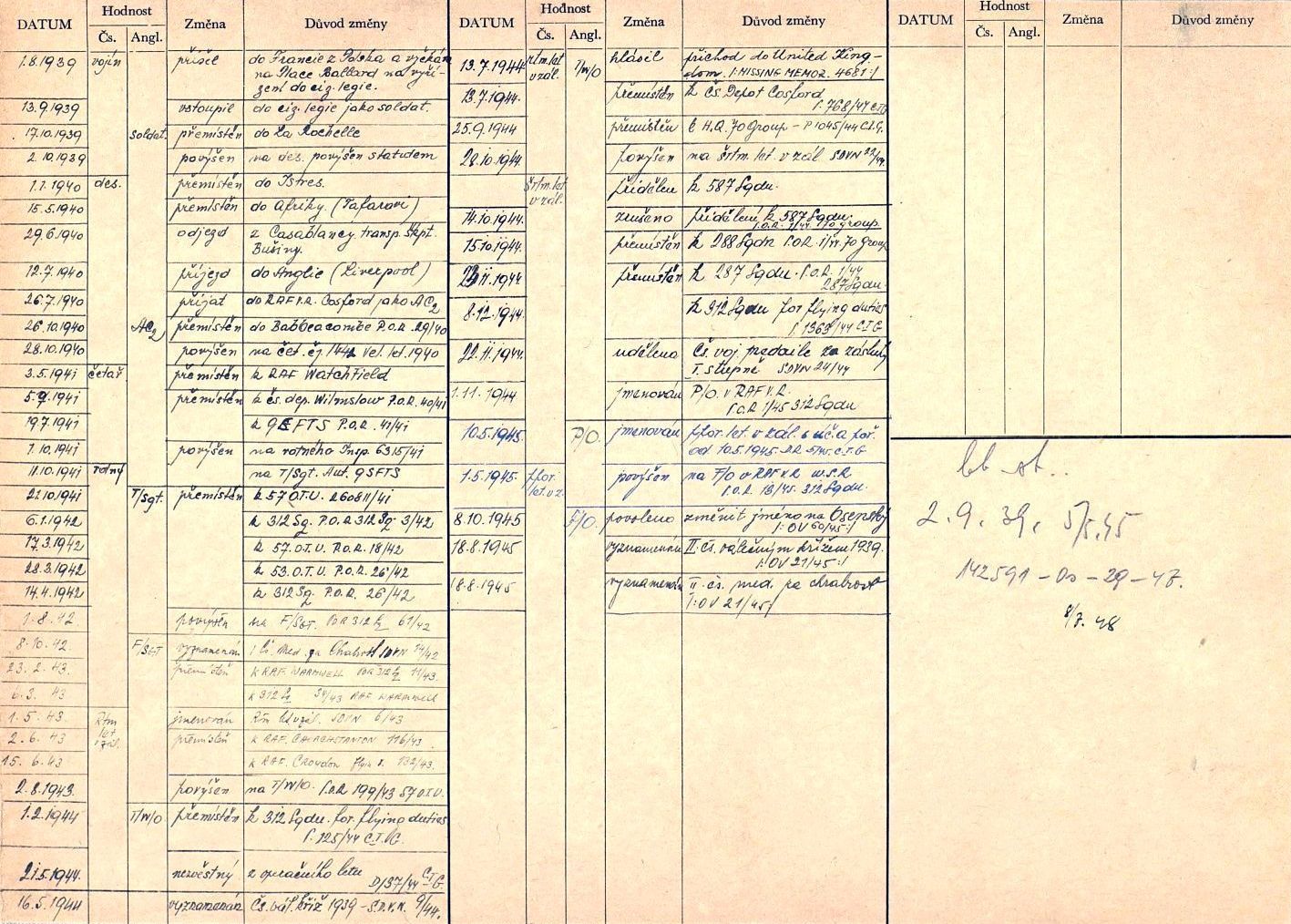 Air card of Robert Ossendorf (Ossenský)
with courtesy of the Military Central Archives – Military Historical Archives Prague
in Czech: Vojenský úst?ední archiv – Vojenský historický archiv Praha resp. VÚA – VHA Praha
Web site : VOJENSKÝ ÚST?EDNÍ ARCHIV
MANSTON airfield, 1945
7th August
07.00 Final briefing for Squadron Commanders.
07.40 Aircrafts started and taxied from the Dispersal.
08.00 Czech Wing airborne. In clear weather, the Czech Wing was airborne ont their last flight from this Country and after forming up flew across the Aerodrome in perfect formation.
First, a section of 6 led by W/C HLADO, D.F.C., followed by 312 Squadron led by S/L HRBACEK, D.F.C.
Then come 310 Squadron led by S/L HARTMAN and 313 Squadron led by S/L KUCERA and finally
12 aircraft of the three Squadrons led by F/L KASAL. The pilots of this Squadron were :
Red Section : - S/L HRBACEK, D.F.C., F/S PROKOPEC, P/O BILEK, F/ VAVRIK.
Blue Section : - F/L PIPA, F/O OSSENDORF, F/O SMOLKA, P/O LISKA.
Yellow Section : - F/L DVORAK, W/O KOVAC, F/L MIKULECKY, P/O HOLZNER.
Kasal Section : - F/L KASAL, F/O TESINSKY, F/L POSTA, P/O BEDNAR, W/O SKRINAR.
The Wing was briefed to fly to Hildesheim (Nr. Hanover) land and refuel, and take off again
after lunch to R/V with 15 Liberators of 311 Squadron, flying with them to Prague and making
a "Fly Past" there (note : an air parade over the city) if fuel permitted.
10.30 Information was received that owing to bad weather on the Continent, the Liberators would be unable
to go, and the Spitfires were instructed to remain at Hildesheim for at least 24 hours.
Remaining behind at Manston were pilots of all three Squadrons who are later to fly over the
spare aircraft. Weather fine early in the morning, deteriorating rapidly to rain and low cloud.

8th August
Liberators unable to take off, and the Spitfires remained at Hildesheim.
Weather dull and cloudy. Thunderstorm later.

9th August
Liberators move again postponed and the Spitfires also grounded.
Heavy rain in the morning and poor conditions during the day.

10, 11, 12 August
No activity.

13th August
Spitfires flew from Hildesheim, arriving at Prague at approximately 17.00 hours.

14, 15, 16, 17 August
No activity
18th August
The Auster III piloted by F/S MOCHEK, in company with 2 other Austers, took off at 6.30 for
Prague, being briefed to make 5 stops en route for refuelling. Weather dull and cloudy.
Robert Ossendorf returned to his homeland on August 13, 1945, flying a Spitfire from No.312 Squadron. The Squadron was dissolved on September 22, 1945 in ?eské Bud?jovice and became Letecký pluk 4 (4th Air Regiment), which was part of the 2. letecké divize (2nd Air division). During this assignment, he married Miss Markéta Reinischová and in the fall of 1946, their son Petr was born. In 1947, he left the army and joined the Czech national airline ?SA (?eské aerolinie a.s.) as an airline pilot. After the Czech coup (the takeover of Czechoslovakia in February 1948 by the Czechoslovak Communist Party, with the support of the Soviet Union), in September 1948, he crossed the German border.
What happened to him next is not known but according to unconfirmed but credible information, after crossing the border and a short stay in the refugee camp of Gmund (a town south of Munich), he left for Great Britain and joined the British Secret Service. He flew over the Soviet Union from British bases in northern Germany, during which he occasionally dropped agents from the Dakota he flew. Robert Ossendorf died on February 2, 1955 on the island of Sylt in northern Germany (RAF Station Sylt ?). He is buried in the Ohlsdorf military cemetery in Hamburg. Robert Ossendorf (now Osenský) was civilly and officially rehabilitated in 1991.
In August 1945, the four Czechoslovak Squadrons of the RAF, No.310, 311, 312 and 313 Squadron, were transferred to Czechoslovakia and integrated the Czechoslovak armed forces. The Spitfires were Czechoslovakia's main fighters until the Czech coup of 1948, after which the Czechoslovak Communist Party purged Air Force personnel who had served in the RAF. Many ex-RAF members have been tried on false charges and sentenced to long prison terms.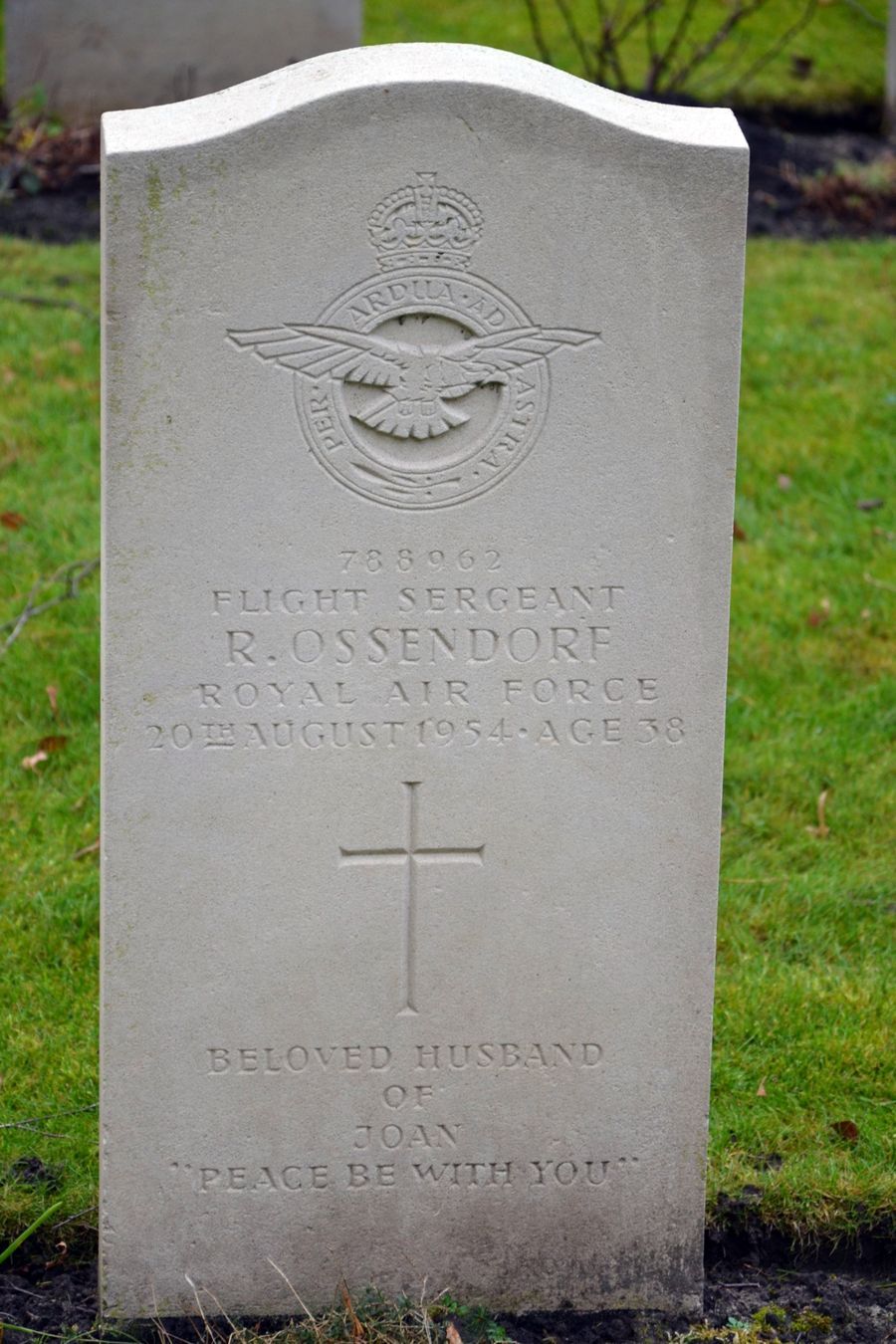 Robert Ossendorf's Grave in Hamburg (Germany).
with courtesy of © Ralph McLean - South Africa War Graves Project
A doubt remains on the precise date and circumstances of the death of Robert Ossendorf. He died on August 20, 1954 (written on his grave) or February 1st, 1955, probably at the Sylt station of the R.A.F . He was buried in the British military cemetery of Ohsldorf in Hamburg (Germany), Square 11, rank B, grave n°1C.
THE DUTY OF MEMORY

In October and November 2019, the ABSA 39-45 had the great pleasure of participating in the launch tour of the movie "The Shelburn Network" in cinemas in Brittany and Loire-Atlantique (movie by Breton director Nicolas Guillou). Present in many cinemas to welcome spectators during the previews, the ABSA 39-45 had the great honor to speak on November 5th at the Saint-Joseph secondary school in Châteaubriant (Western France) with around a hundred students to present the story of Robert Ossendorf, who escaped via the Shelburn network in July 1944. It was obviously our friend Jean-Michel Martin who brilliantly presented the story of this Czech RAF pilot fallen in Laurenan on May 21st, 1944, in the presence of the director of the film, Nicolas Guillou.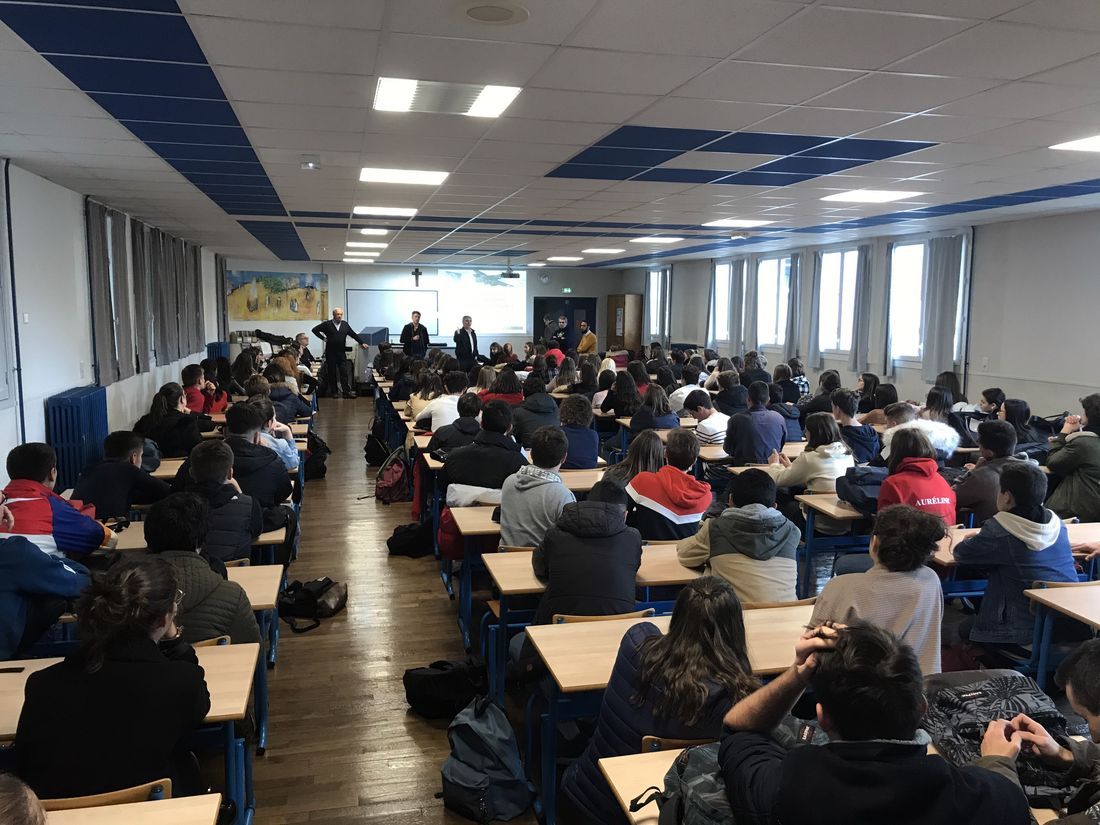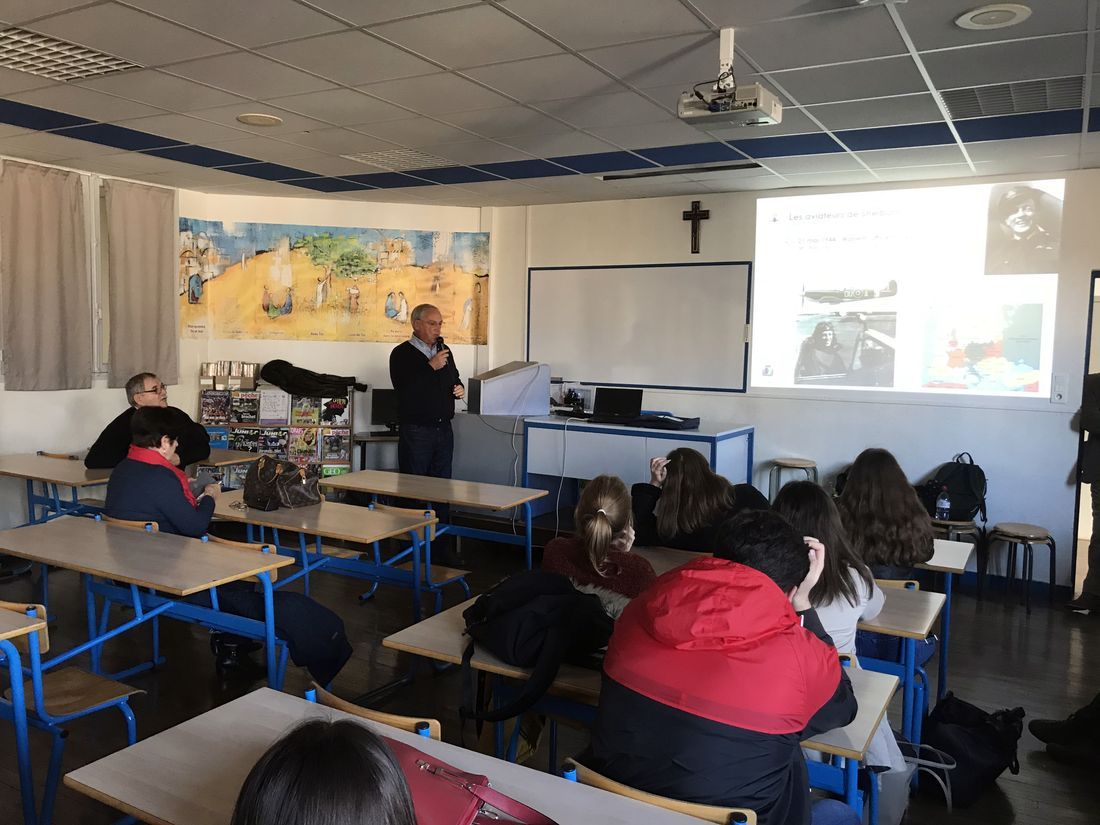 Jean-Michel Martin presents the story of Robert Ossendorf at the "Lycée Saint-Joseph" (secondary school) of Châteaubriant (Western France), on November 5th, 2019 on the occasion of the launch tour of the movie "The Shelburn Network", by the Breton film director Nicolas Guillou.
(photos ABSA 39-45 - Benoit Paquet)