4th April, 1941
Armstrong Whitworth Whitley MkV (Z6556 - code MH-Q)
Trébeurden (22)
(contributors : Vincent Sévellec/ABSA 39-45 - Commonwealth War Graves Commission)

A Royal Air Force Armstrong Whitworth Whitley bomber in flight, circa 1940 © RAF public domain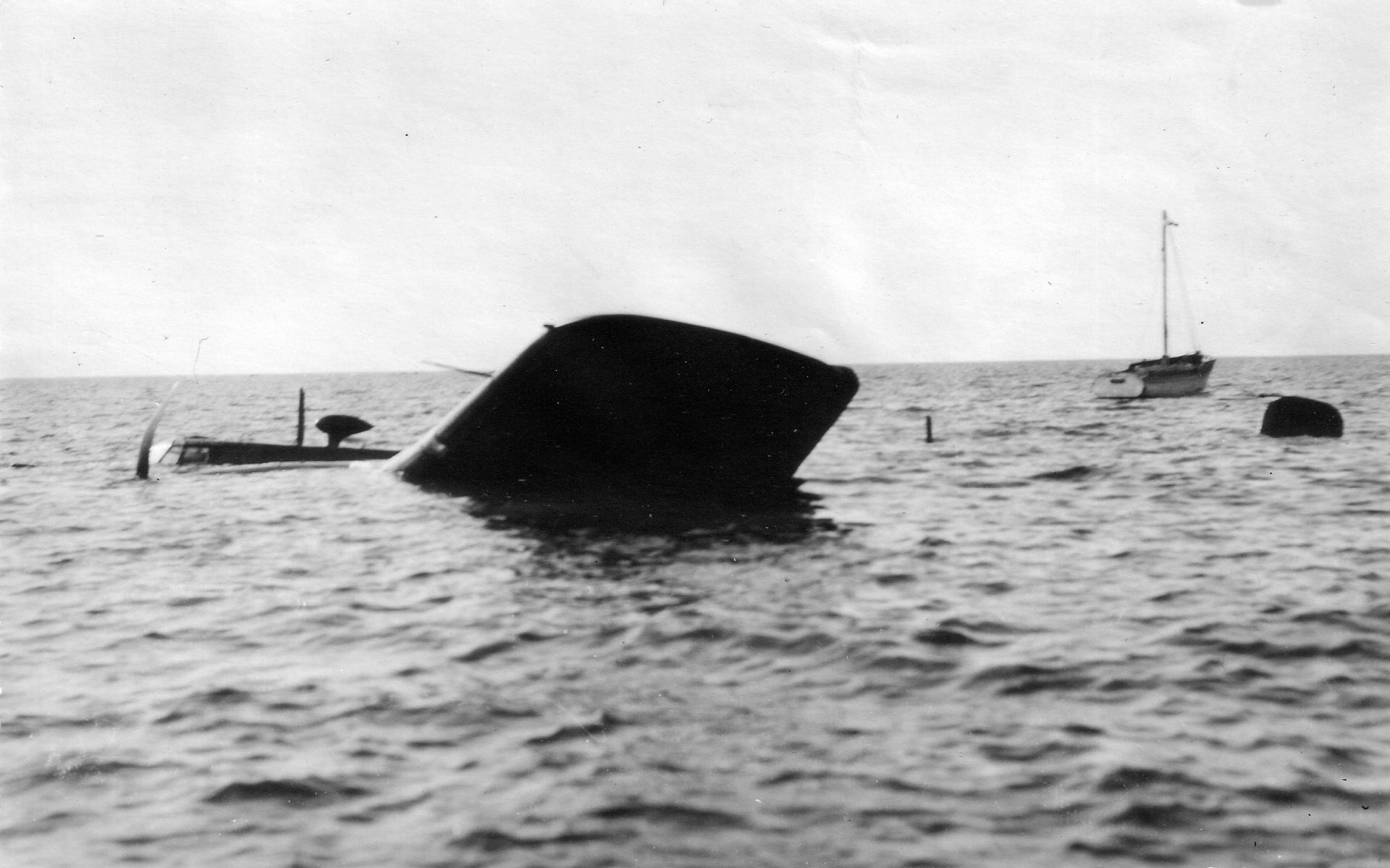 The bomber Armstrong Whitworth Whitley MKV Z6556 under the water in Trebeurden
Photo © collection Benoit Paquet - ABSA 39-45
Crew (51 SQN) :
Trebeurden communal cemetery
- Flight Lieutenant (pilot) James HARRINGTON (K.I.A.)
Royal Air Force Volunteer Reserve (service number 39439)
- Sergeant (pilot) John Kirkwood PURDON (K.I.A.)
Royal Air Force Volunteer Reserve (service number 745547)
- Sergeant (W.Op./Air Gnr.) Daniel Gilfillan FARMER (K.I.A.)
Royal Air Force (service number 621070)
- Sergeant (W.Op./Air Gnr.) Cecil CALVERT (K.I.A.)
Royal Air Force (service number 629173)
- Sergeant (Obs.) Thomas Halford KNIGHTON (K.I.A.)
Royal Air Force Volunteer Reserve (service number 745273)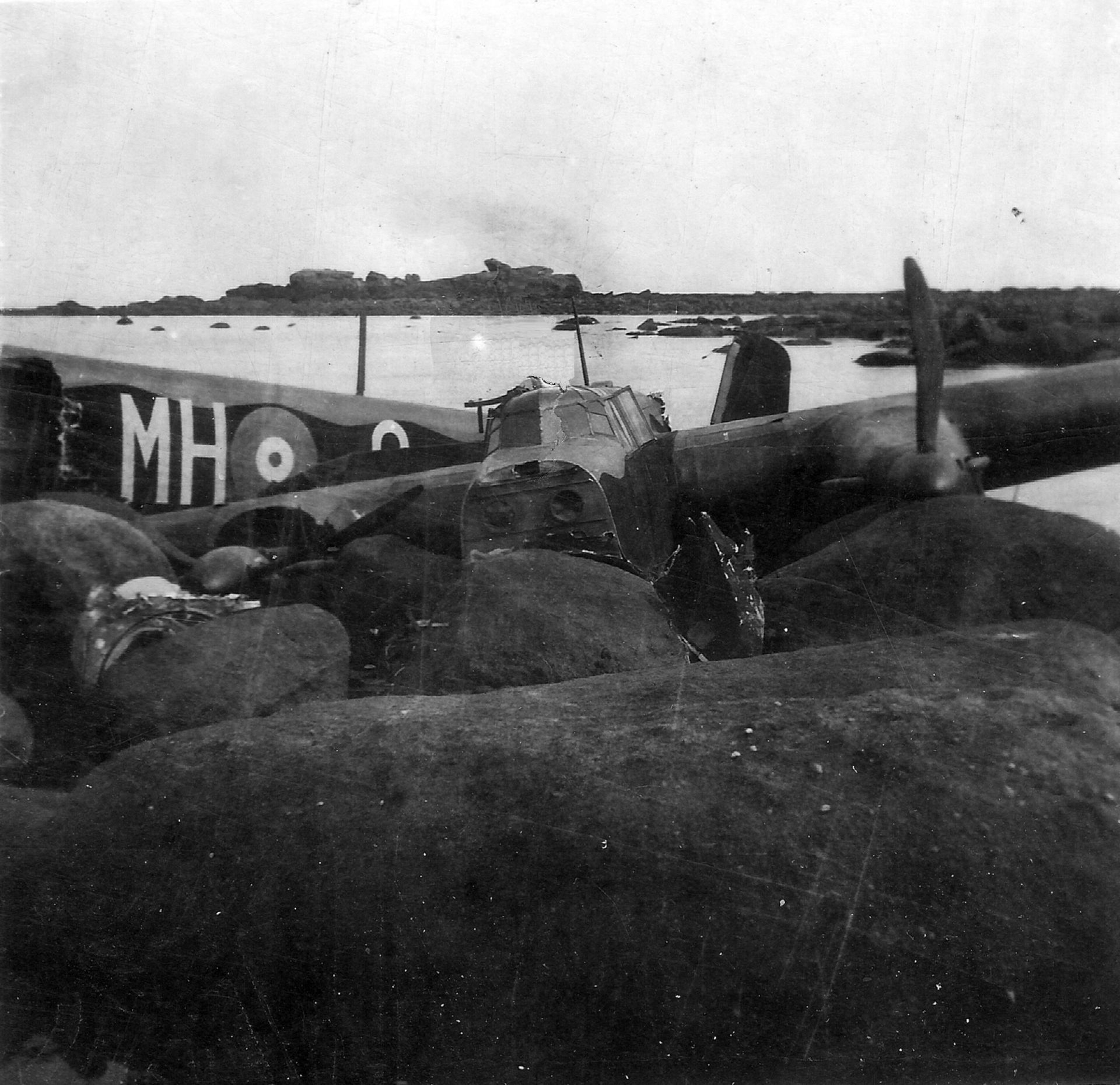 The wreckage of the Whitley MKV Z6556 recognizable by its code MH-Q
Photo © collection Benoit Paquet - ABSA 39-45
THE STORY
Take off at 6:56 pm from RAF Dishforth, North Yorkshire. Mission on the Bay of Brest between 9:25 pm and 10:55 pm, 90 aircrafts attacked without any real success the ships based in the harbor (Scharnhorst et Gneisenau). 12 Whitley V of 51 Squadron used for the mission, one of them was shot down by mistake on the British territory, a second one crashed in Trebeurden due to technical problems. Two other aircrafts crashed around midnight on the way back.
12 Whitley V of 51 Sqdn
13 Whitley V of 77 Sqdn
1 Whitley V of 78 Sqdn
1 Stirling of 57 Sqdn
11 Blenheim IV of 101 Sqdn. Blenheim coded N3552 was missing in action. A second one crashed on the way back in England (code T2439).
1 Whitley V of 102 Sqdn
51 Wellington of 40, 57, 75, 115, 214, 218 Squadrons. Wellington R1470 was shot down in England by a Junkers Ju 88.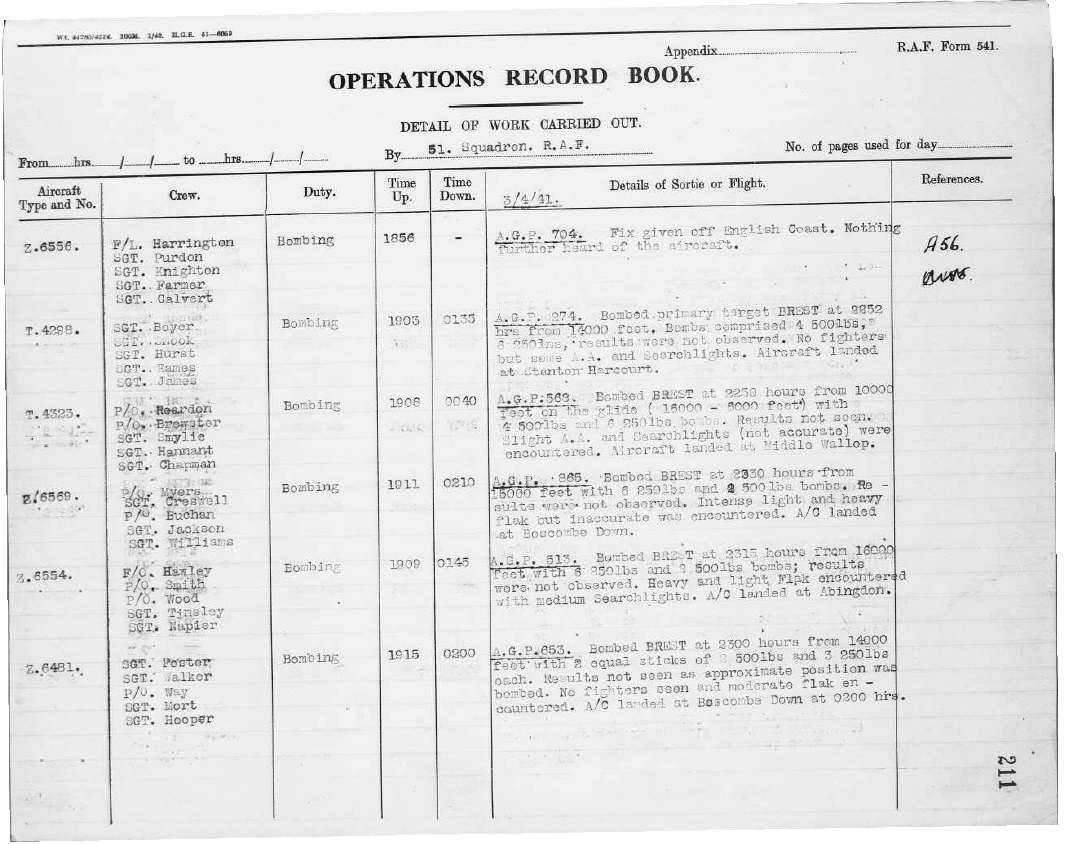 The 51 Squadron Operational Record Book for April 1941 shows (1st record at the top of the document) the take-off time.
The aircraft indicated a final fix off the English coast and then no further news.
Source : The National Archives
IN MEMORIAM
The crew is buried in Trebeurden communal cemetery :
Flight Lieutenant James HARRINGTON - Grave 2
aged 28, native of Clontarf Castle - County of Dublin, Ireland, son of James J. HARRINGTON and Ellen HARRINGTON
Sergeant John Kirkwood PURDON - Grave 1
aged 20, native of Bridlington, coastal city of east Yorkshire, in Northern England, son of Francis Kenneth and Kate Alice PURDON.
Sergeant Daniel Gilfillan FARMER - Grave 5
aged 23, native of Glasgow, Scotland, son of Joseph Beattie FARMER and Janet Gilfillan FARMER, husband of Emily FARMER.
Sergeant Cecil CALVERT - Grave 3
aged 19, native of the city of Sunderland, County of Durham, England, son of Robert Henry and Hannah CALVERT.
Sergeant Thomas Halford KNIGHTON - Grave 4
aged 26, native of the city of Mansfield, Nottinghamshire, England, son of William and Laura Emma KNIGHTON.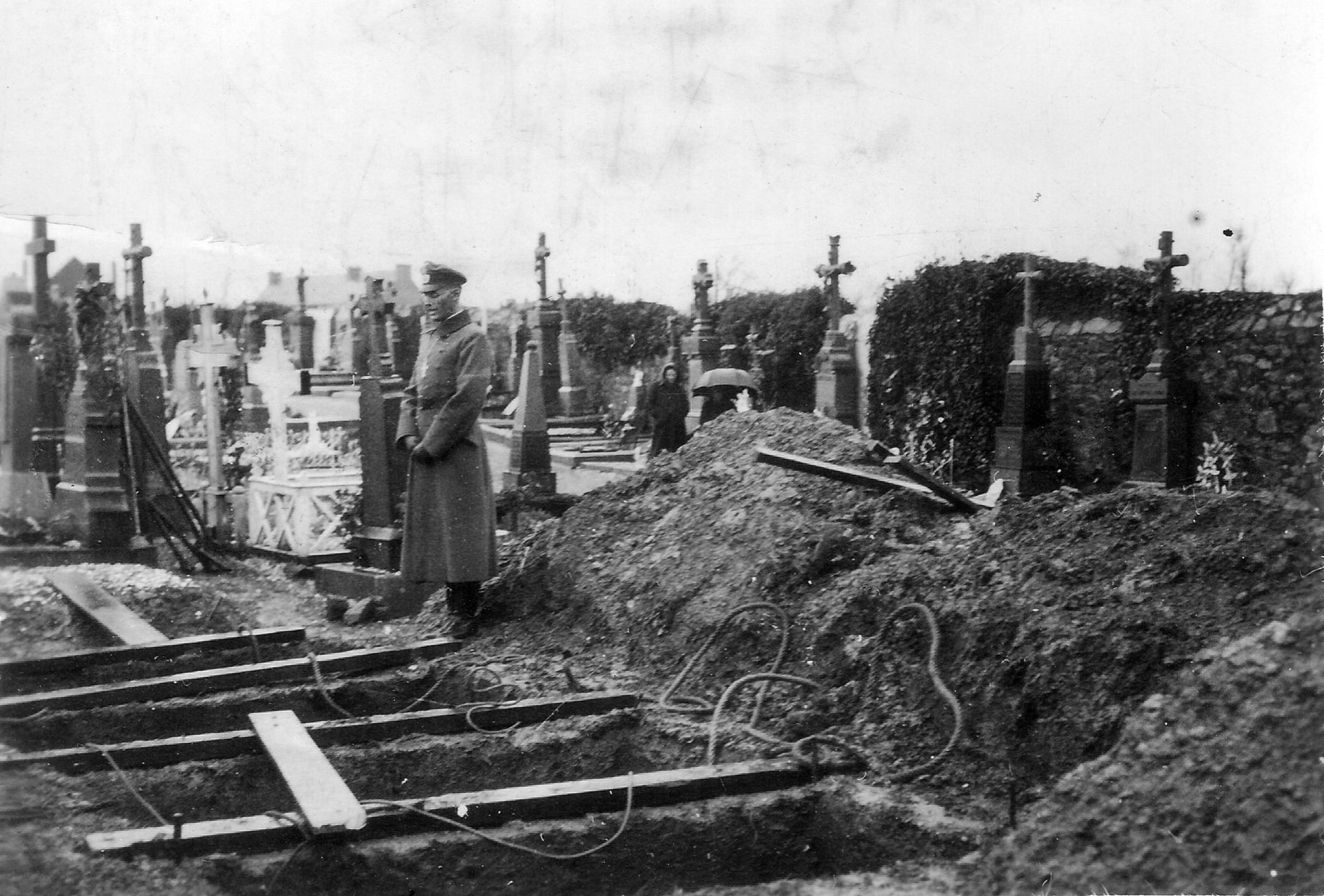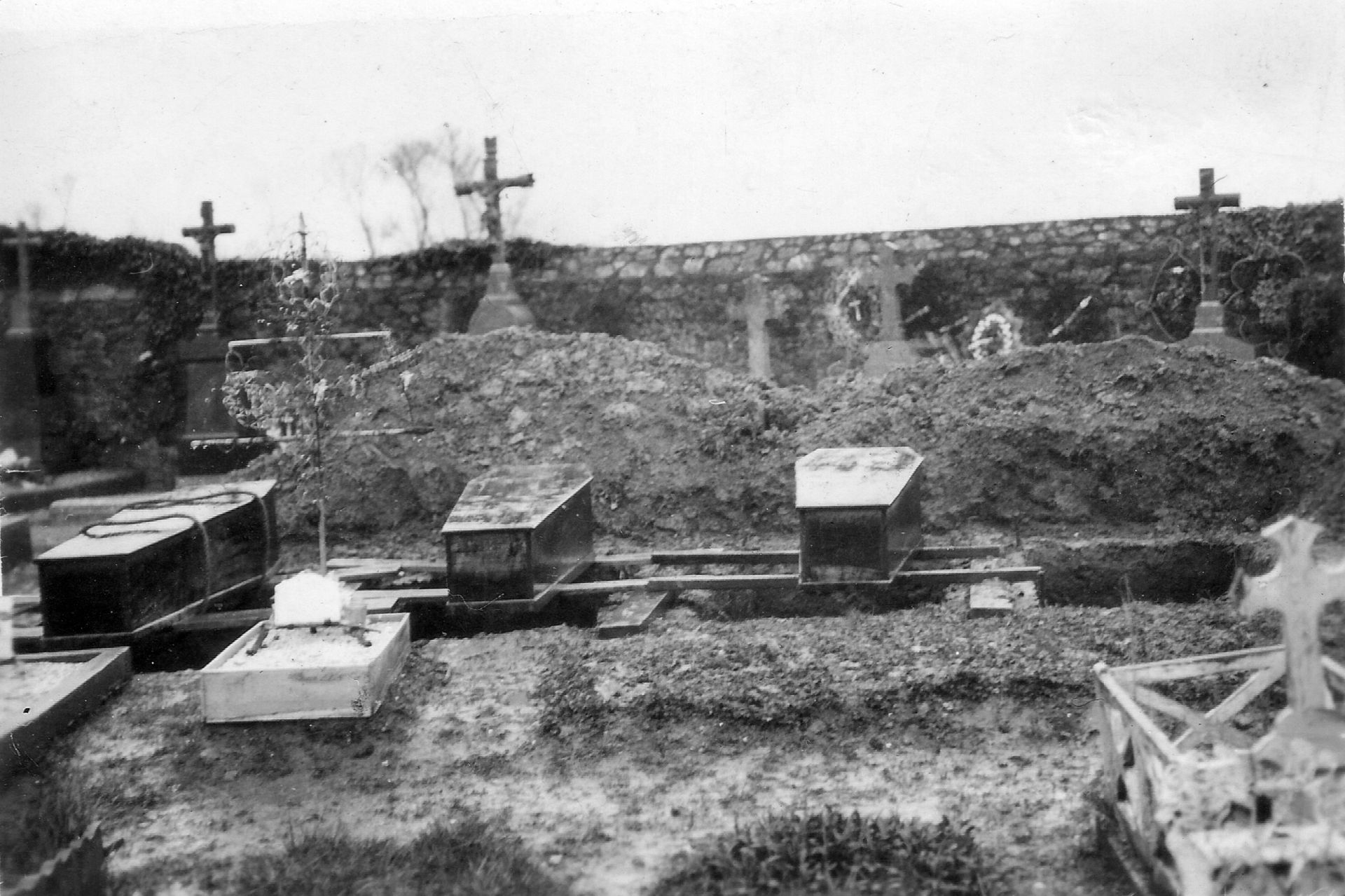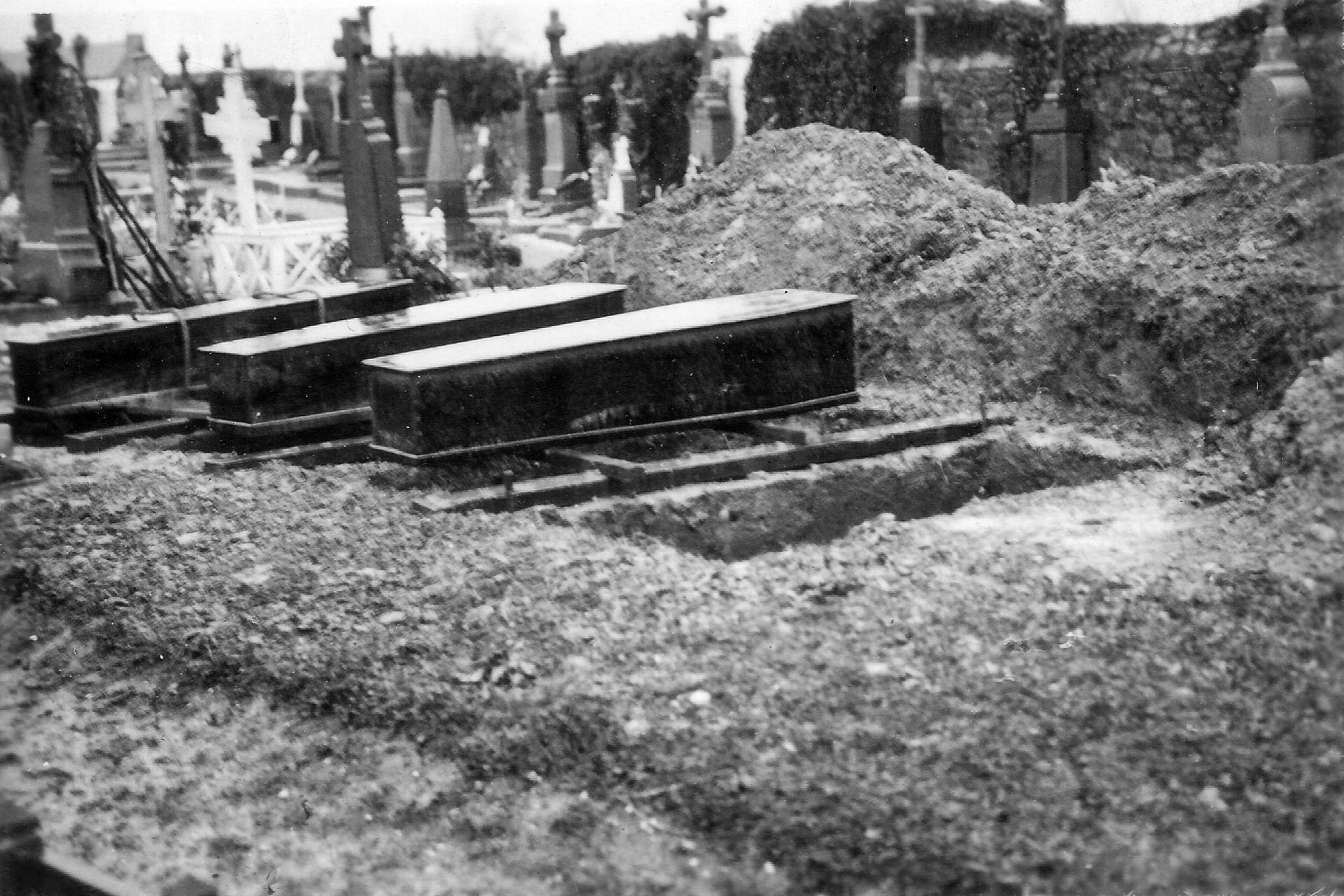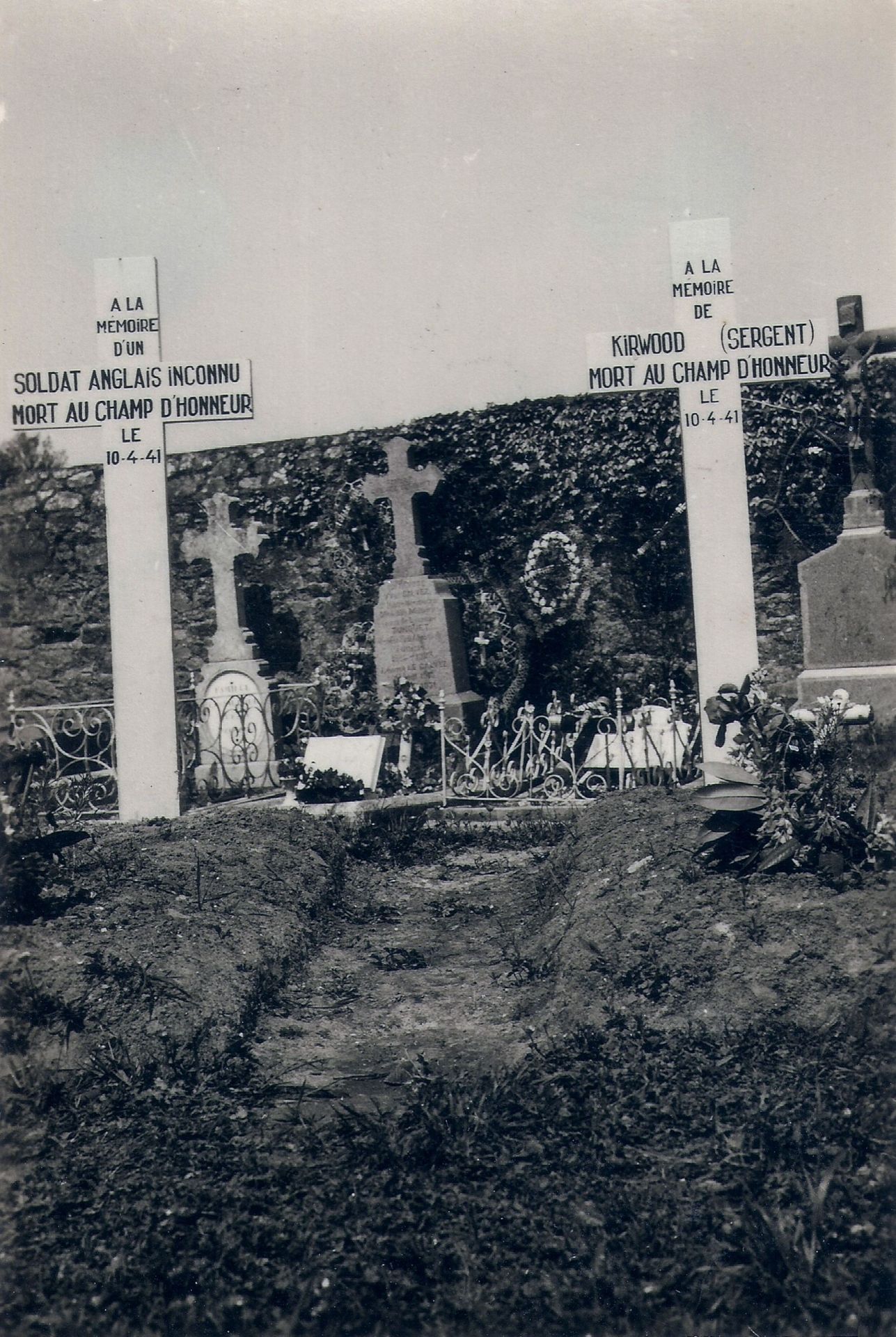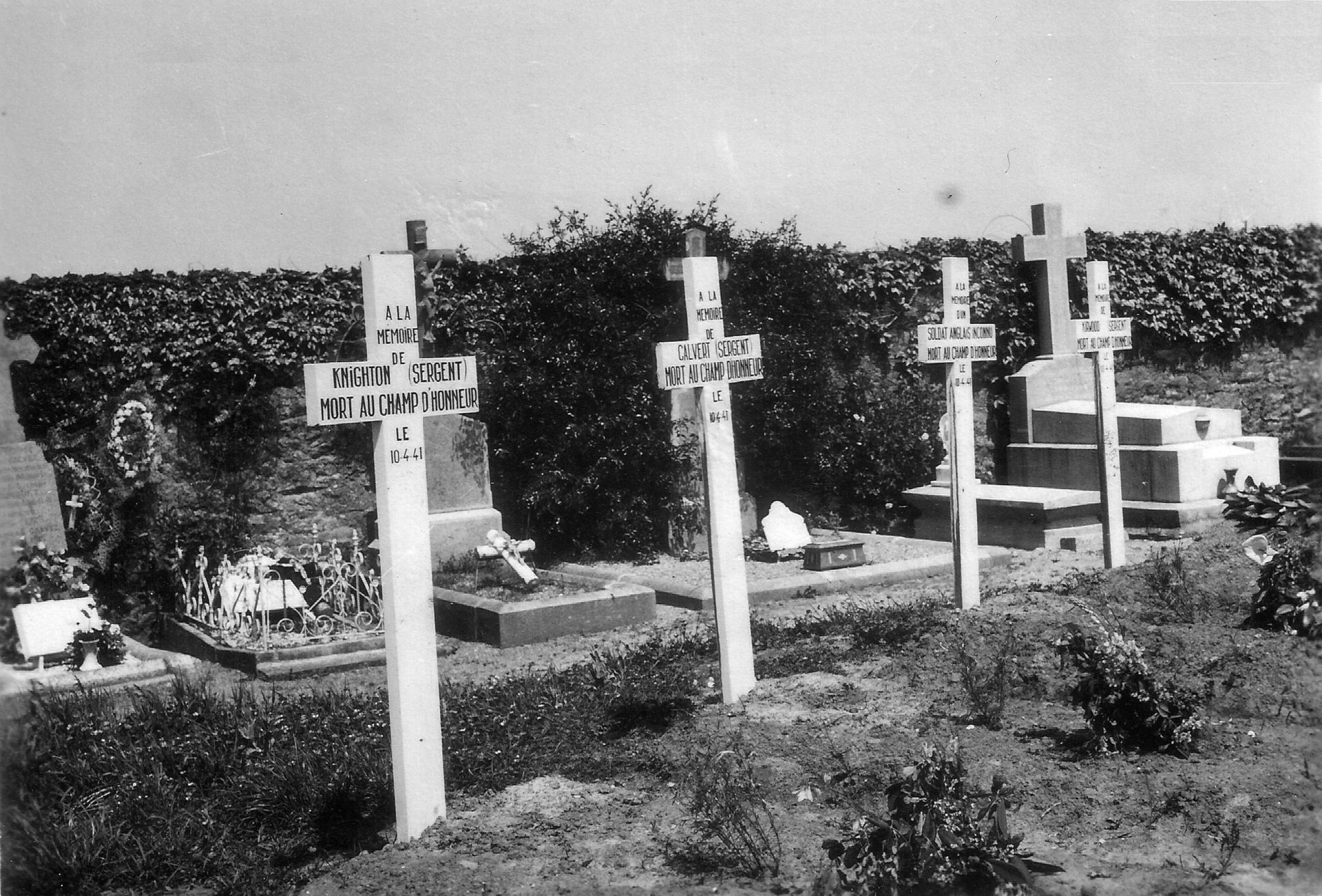 The first graves of the crew members of the bomber Armstrong Whitworth Whitley MKV Z6556 at Trebeurden.
The plane was downed on April 4 and the dates of death on the crosses are April 10.
We can assume that the Germans wrote the date of burial or discovery of the bodies.
Note that there are only 4 graves (there were 5 men on board) and only 3 coffins visible in the photos.
Only 3 names are written on the crosses (Knighton, Calvert and Kirwood), the 4th cross mentions an unknown soldier.
Kirwood was in fact Kirkwood, the middle name of John Kirkwood PURDON.
The latter could be Purdon or Harrington, Farmer having been discovered later and buried on May 24, 1941.
Photos © collection Benoit Paquet - ABSA 39-45