10 June 1944
De Havilland Mosquito FB VI (HR117 - code DM-?)
Off Ushant island (29)

De Havilland Mosquito FB VI of no 487 Sqn RNZAF
© IWM (CH 12415) - public domain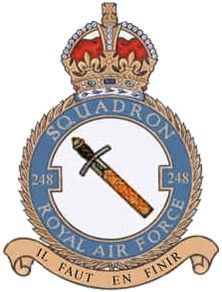 Crew : 248 Squadron RAF
- Flight Lieutenant (pilot) Edmund Henry JEFFREYS, 22 years old - RAF Volunteer Reserve (service number 116717), DFC
Panel 202. RUNNYMEDE MEMORIAL.
- Flying Officer (navigator) Dudley Albert BURDEN, 25 years old - RAF Volunteer Reserve (service number 144193)
Panel 204. RUNNYMEDE MEMORIAL
THE STORY
10th June, 1944. De Havilland Mosquito FBVI - HR117, shot down off Ushant island (29) around 4:00 pm.
Le 10 juin un peu avant midi, quatre Mosquito du no 248 Squadron de la RAF [F/O G.N. YATES (serial MM399, code T), F/Lt S.G. NUNN (serial LR347, code T), F/S W.W. SCOTT (serial HP907, code V) et F/O K. NORRIE (serial HR158, code W)] repèrent, attaquent et coulent un U-Boot, le U-821 (commandé par l'Oblt. Ulrich Knackfuss), au nord de l'île d'Ouessant. L'équipage abandonna le sous-marin qui fut achevé par un Liberator Mk V du no 206 Squadron de la RAF à 11h45.
On June 10th, a bit before noon, four Mosquitos from No. 248 Squadron of the RAF [F/O G.N. YEATES (serial MM399, code S), F/Lt S.G. NUNN (serial LR347, code T), F/S W.W. SCOTT (serial HP907, code V) and F/O K. NORRIE (serial HR158, code W)] located, attacked and sunk a U-Boot, the U-821 (commanded by Oblt. Ulrich Knackfuss), north of Ushant Island. The crew abandoned the submarine, which was definitely sunk by the Liberator GR Mk VI (ex 42-64324) serial EV943, of No. 206 Squadron RAF at 11:45 a.m. This Liberator was flown by F/Lt Alexander DUNDAS.
De Havilland Mosquito FB VI LR347 of F/Lt. S.G. NUNN returning from another mission on July 16, 1944..
The left engine propeller is feathered and the tail is hit by the Flak. The plane crashed at Portreath when coming back.
Photo with courtesy of Aircrewremembered.com
Un peu plus tard dans l'après-midi, un groupe de quatre autres Mosquitos, également du no 248 Sqn, conduit par le pilote français Max Guedj, (nickname "Maurice") [A/Comdr.J. MAURICE (serial LR360 code N), F/Lt. E.H. JEFFREYS (serial HR117, code J), F/Lt. R.K. ORROCK (serial HR120, code G) et W/O H.A. CORBIN (serial HP866, code D)] décollent de la base RAF de Portreath (Cornouailles) pour inspecter la zone où fut coulé le U-821. Ils repèrent à 15h59 des tâches d'huile, puis un dinghy et à proximité une vedette rapide allemande, venue recueillir les survivants du sous-marin. C'est à ce moment là que la vedette allemande ouvrit le feu sur le Mosquito FB VI HR117 piloté par Edmund JEFFREYS, qui s'écrase et coule à 50 mètres de la côte, ne laissant aucun survivant. Les trois autres Mosquito attaquant alors la vedette : 50 hommes furent tués et un seul survécut.
Later in the afternoon, a group of four other Mosquitos, also from No. 248 Sqn, led by the French pilot Max Guedj, took off from the Portreath RAF base (Cornwall) to control the area where the U-821 was sunk. At 3:59 p.m., they spotted oil stains, then a dinghy and nearby a German motorboat, which had come to collect the survivors of the submarine. At this moment, the German motorboat opened fire on the Mosquito FB VI HR117 flown by Edmund JEFFREYS, which crashed and sank 50 meters from the coast, without any survivor. The three other Mosquitos then attacked the boat : 50 men were killed and only one survived.

the Mosquito crash zone, west of Keller Island, north of Ushant
THE FALLEN CREW
Edmund Henry JEFFREYS
Born in 1921 in Lewisham; London, he was the youngest son of Captain Robin Edmund Jeffreays, Royal Navy, DSC and Marjorie Ellenwood Jeffreys (nee Hobbs). After WW1, Edmund's father was transferred to Portsmouth and New Zealand with his family. In 1931, the family returned to England and Edmund entered preparatory school in Uckfield, Sussex, then in 1935 at Radley College. After leaving school, he attempted to enter the Royal Navy without success, then entered the British Power Boat Company in Hythe, Hampshire, where MTBs (Motor Torpedo Boats) were manufactured for the Navy and rescue Cutters for the RAF.
After the declaration of war, Edmund enlisted in the Royal Air Force Volunteer Reserve and attended pilot training. He would have joined No. 236 Squadron of the RAF at the end of 1941. Equipped with Bristol Beaufighter since March 15, 1942, this Squadron carried out reconnaissance and shipping escort missions, then operations against enemy ships along the Dutch coast. Some protection missions were also carried out in the Bay of Biscay. On January 11, 1943, Jeffreys took off from Wick (Scotland) with his navigator, F/O Robert Augustine Irving (service number 119447), for a reconnaissance mission over Norway and the Skagerrak. At the start of the mission, they spotted a few ships, tanker and submarines, but at the end of the mission, they spotted the battle cruiser Scharnhorst with all her naval and air escort heading Norway. They were able to fly back to the base with this precious information ; they were awarded Distinguished Flying Cross (DFC) for this action. The last known mission in the No. 236 Sqn was an air-to-sea rescue mission for a Beaufighter which was shot down in March 1943.
Then Edmund Jeffreys was promoted to Flight Lieutenant and sent to No. 248 Squadron in Portreath, Cornwall. He then attended a conversion training on De Havilland Mosquito. He carried out operational missions from March 1944, then protection missions during the landing of June 6, 1944 against ships and submarines.
Dudley Albert BURDEN
D.A. BURDEN was the son of Elsie Burden, Canning Town, London, UK.
Flying Officer Dudley Albert BURDEN
Photo courtesy Allan Beesley - source http://aircrewremembered.com
Flying Officer Dudley Albert BURDEN during a training in 1941 (1st on left)
Photo courtesy Allan Beesley - source http://aircrewremembered.com
IN MEMORIAM
In Ushant cemetery
The day of the Mosquito crash, on June 10, 1944, a 16-year-old French boy, Michel Guillot, witnessed the aircraft crash from the north of the Ushant island. He saw it diving a few dozen meters from the small island of Keller. Marked by this event, he undertook, after having done research, to make a stele in 2006 in the Ushant cemetery. Michel Guillot died in 2017, he was 89 years old.

Michel Guillot, witness of the crash, who made the plaque commemorating the two airmen who fell on June 10, 1944
Source photo http://aircrewremembered.com



The stele made in 2006 by Michel Guillot to pay homage to the Mosquito crew (Ushant cemetery)
Photo Jean-Claude Langevin - source site Aerostèles
The Mosquito crash site, a few dozen meters from Keller Island
Photo Jean-Claude Langevin - source site Aerostèles
APPENDICES
Extracts from the Operations Record Book (ORB) of the missions of June 10, 1944
The 1st mission with 4 Mosquitos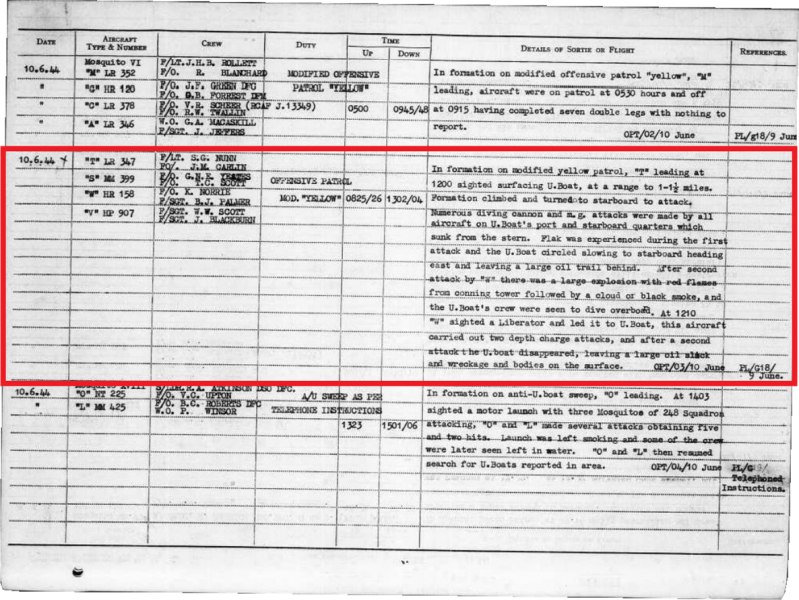 The 2nd mission with Mosquitos including the Jeffreys and Burden HR117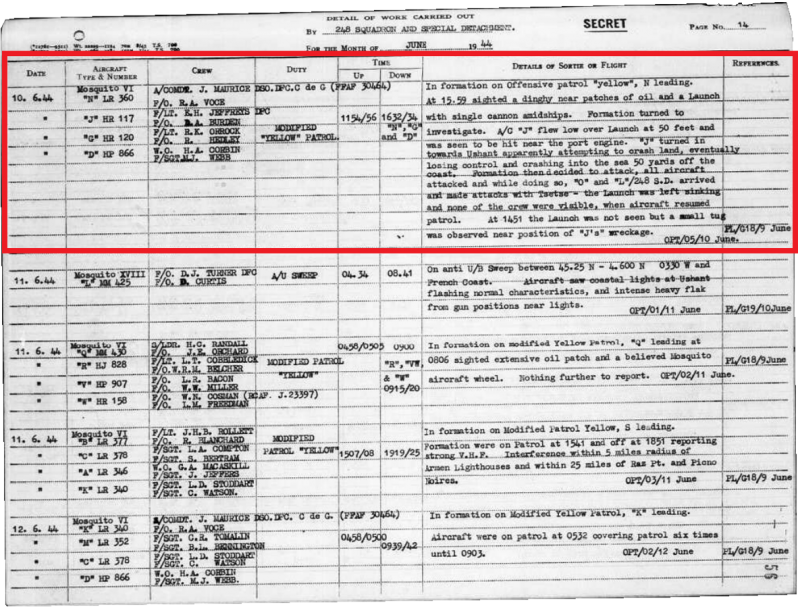 Runnymede memorial
The bodies of the two airmen were never recovered. They are therefore honored at the Runnymede Memorial in England.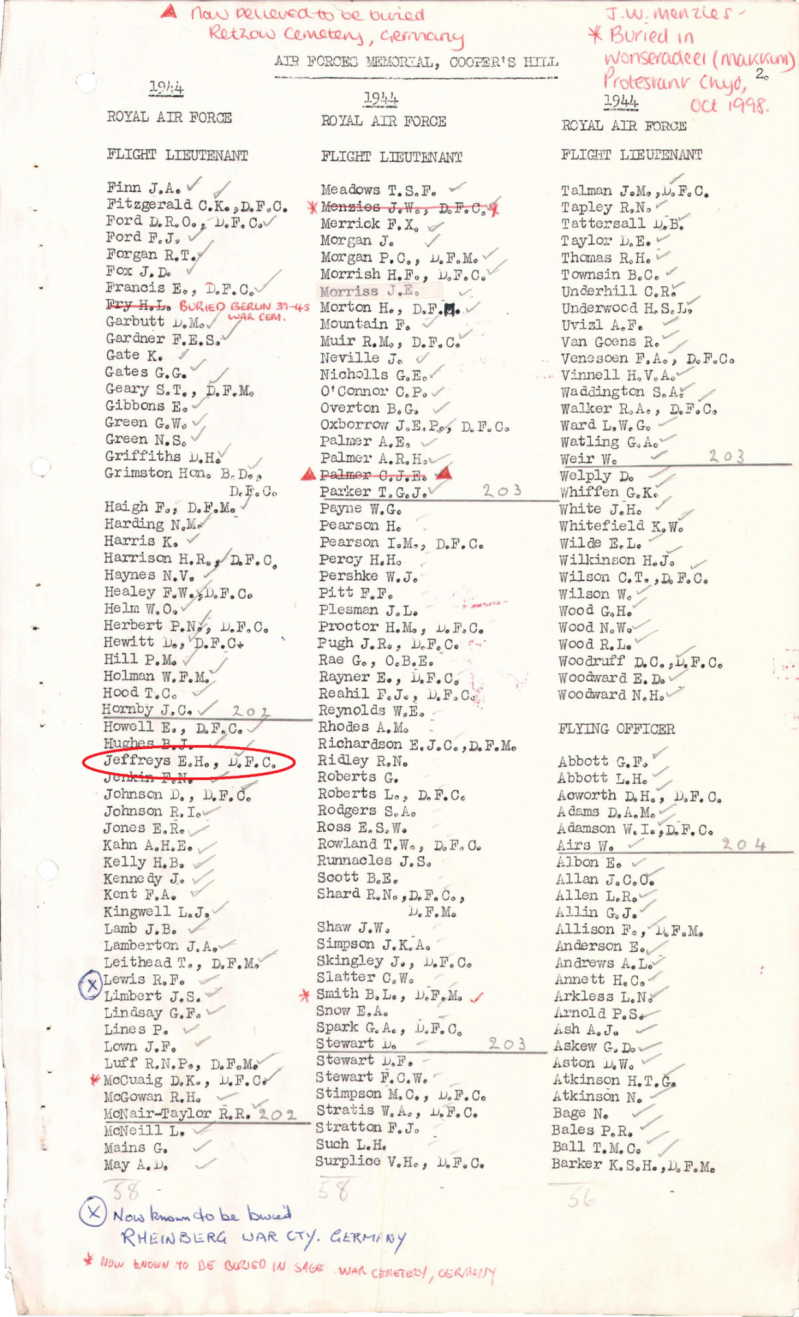 Edmund Henry JEFFREYS on the list at Runnymede Memorial
Document from Commonwealth War Graves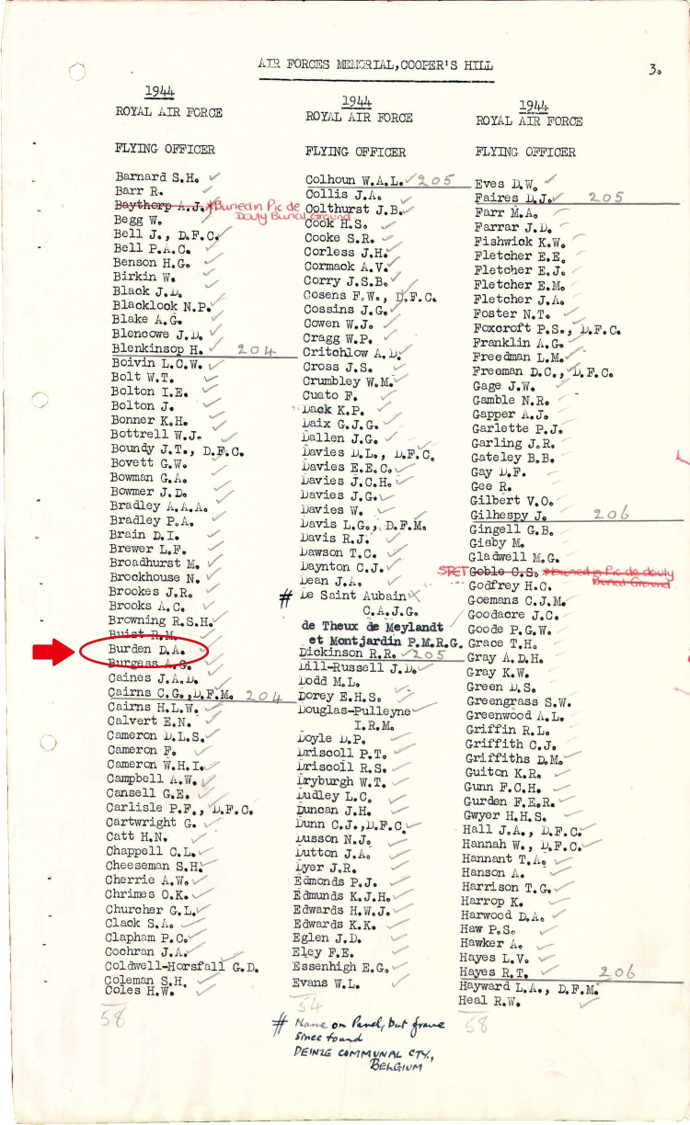 Dudley Albert Burden on the list at Runnymede Memorial
Document from Commonwealth War Graves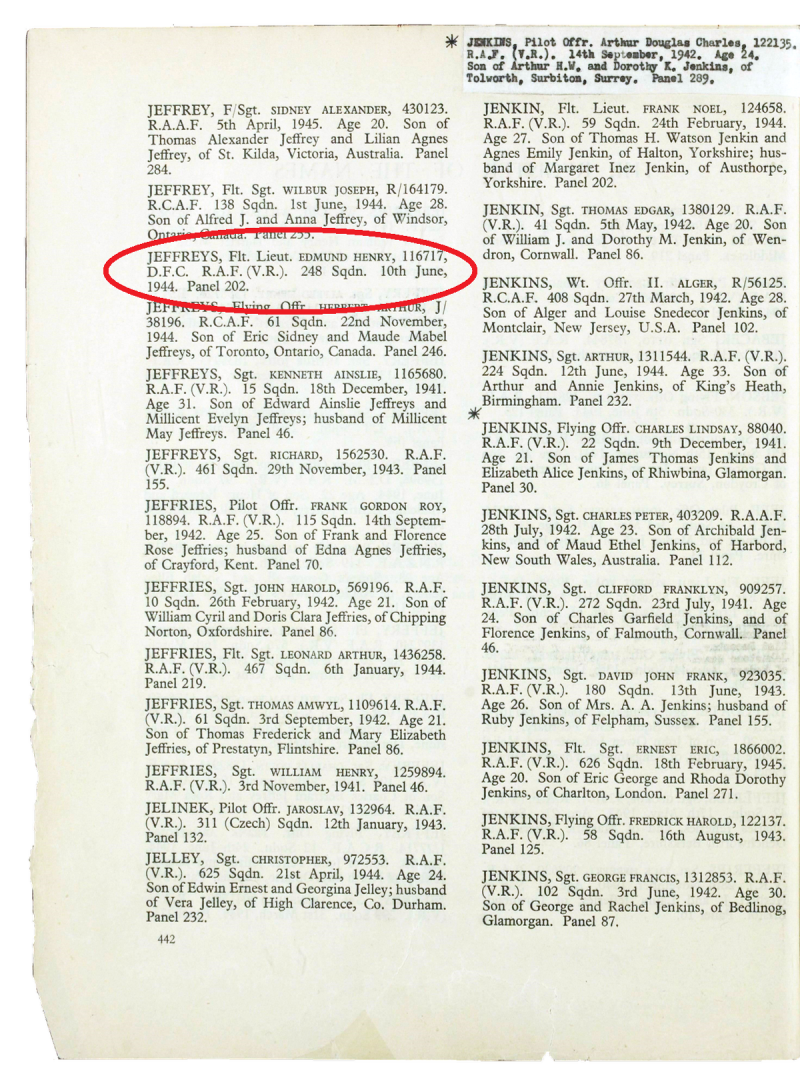 Edmund Henry JEFFREYS at Runnymede Memorial
Document from Commonwealth War Graves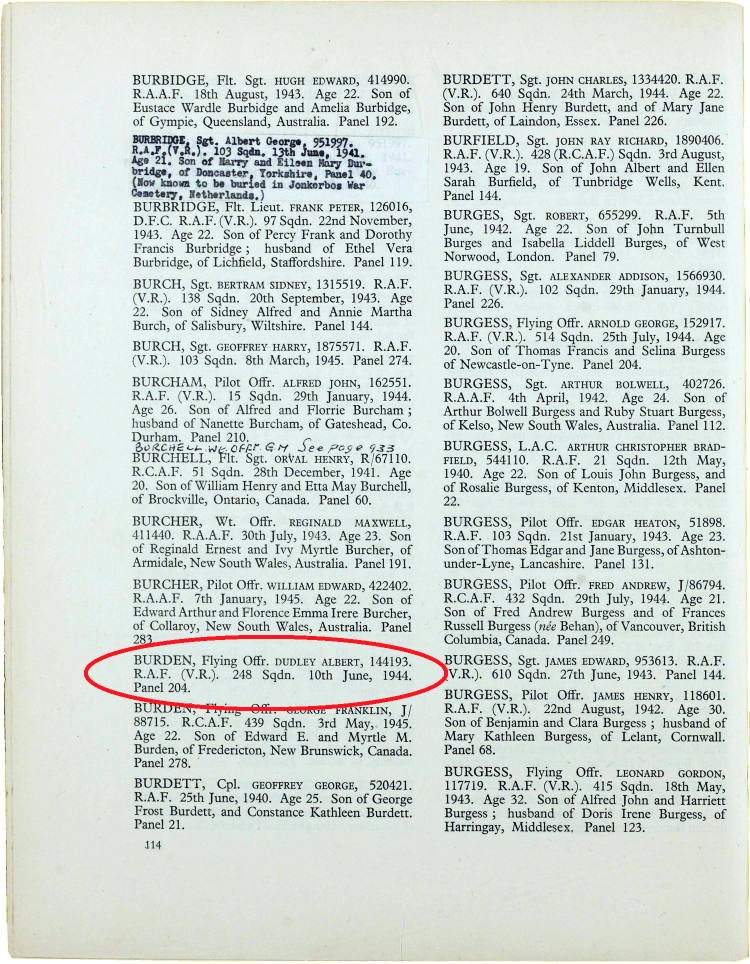 Dudley Albert Burden at Runnymede Memorial
Document from Commonwealth War Graves
Sources :
- la Fana de l'Aviation n° 626 (January 2022) : article of David Méchin about Max Guedj
- website WW2 REMEMBERED
- website Aircrew Remembered
- website Aérostèles - Post of Jean-Claude Langevin
- website du Commonwealth War Graves