20th August 1941
Supermarine SPITFIRE Mk Ib
X4497 (code LY-P)
Trez-Bellec, Telgruc beach (29)
(contributors : Alain Floch, Philippe Dufrasne, Jean-Louis Roba, Frédéric Hénoff)
Pilote :
Flying Officer Sydney Hasting DOWSE (service number 86685 - P.O.W.)
1 P.R.U. (No 1 Photographic Reconnaissance Unit)
THE STORY
On August 20, 1941, the Spitfire Mk Ia s/n X4497 of 1 PRU took off from RAF Harrowbeer, Devon, England, for a photographic reconnaissance mission over Brest. After an aerial combat with Focke Wulf FW 190s of JG 2, he was hit and fell into the sea less than 100 meters from the coast of Telgruc (Crozon peninsula). The pilot, Sydney Hasting DOWSE, reportedly bailed out and swam towards the beach where he was immediately captured by the Germans. He was sent to Stalag Luft III in Sagan, Poland and was among the 76 escapees from Sagan ("The Great Escape") but was recaptured. He would have been sent to the concentration camp of Sachsenhausen from where he would have escaped again. Recaptured, he was sent back to Sagan.
A German telegram (below) gives some information on the circumstances of this crash :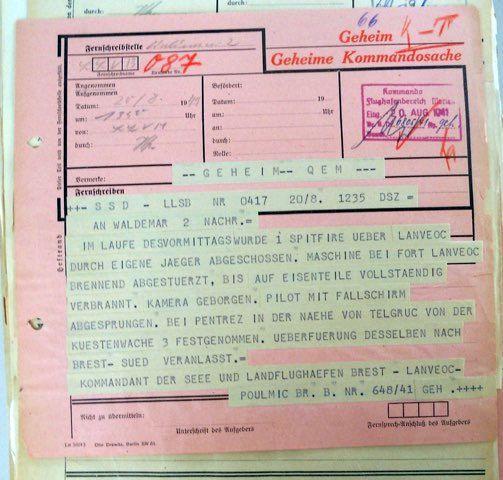 German telegram
Telegram translation :
" During the morning, 1 Spitfire was shot down by our own fighters over Lanveoc. The aircraft crashed in flames near Fort Lanveoc; entirely calcined with the exception of the iron elements. Camera recovered. The pilot bailed out. Captured at Pentrez near Telgruc by the Coast Guard 3. Verification of the latter in progress at Brest-Sud. Commander of the maritime and land aerodrome of Brest-Lanveoc-Poulmic."
A photo taken at the time shows what remains of the reconnaissance Spitfire, loaded into a truck.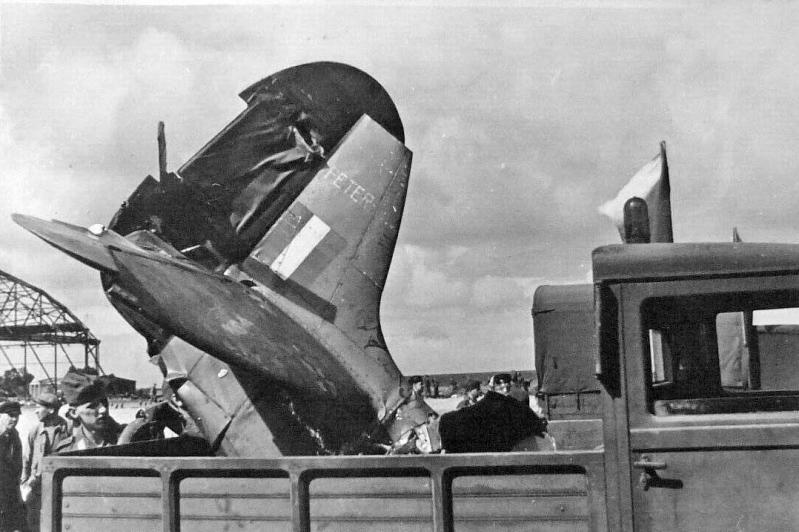 Photo collection ABSA 39-45