News
EXHIBITION 75th ANNIVERSARY
Châteaubriant (Western France), covered market - from 27th July to 18th August 2019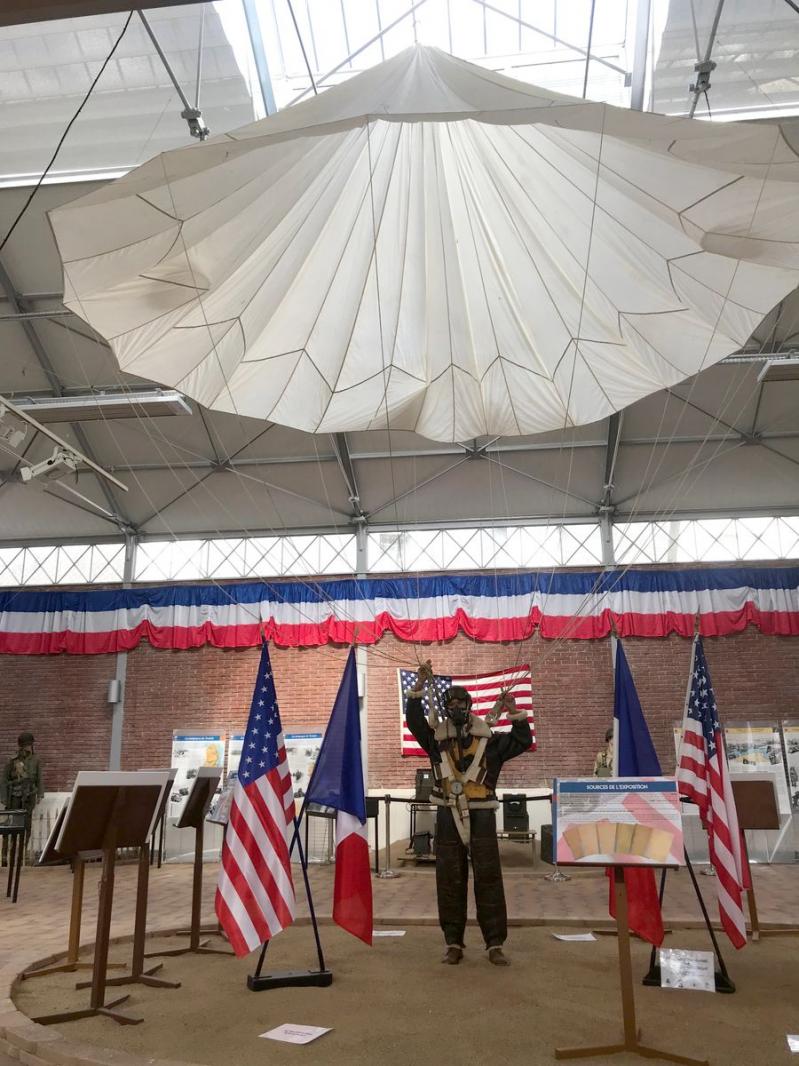 Photo © Benoit Paquet
On August 4, 1944, the city of Châteaubriant was liberated but 6 American soldiers were killed. For many years the identity of these soldiers remained unknown in Châteaubriant. The ABSA 39-45 has thus recently helped to find the identity of these 6 soldiers and the city of Châteaubriant has decided to pay tribute to them by organizing an exhibition at the covered market from 27th July to 18th August 2019. ABSA 39-45 of course installed a booth where you can see, among other things, a P-47 engine, a Vickers Armstrong Albemarle propeller hub and a Boeing B-17 propeller blade. Also note the presence of the US pilot under his parachute (collection Pierre Mahé - ABSA 39-45) which welcome visitors at the entrance of the exhibition.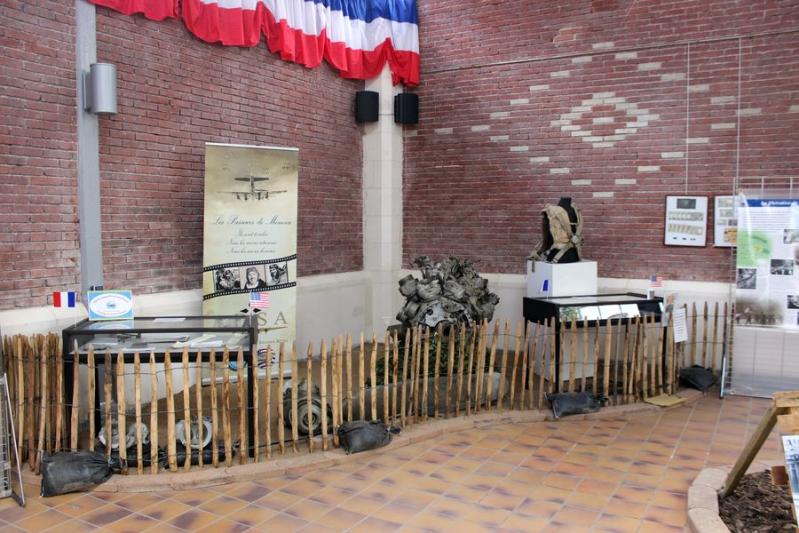 The booth ABSA 39-45
Photo © Benoit Paquet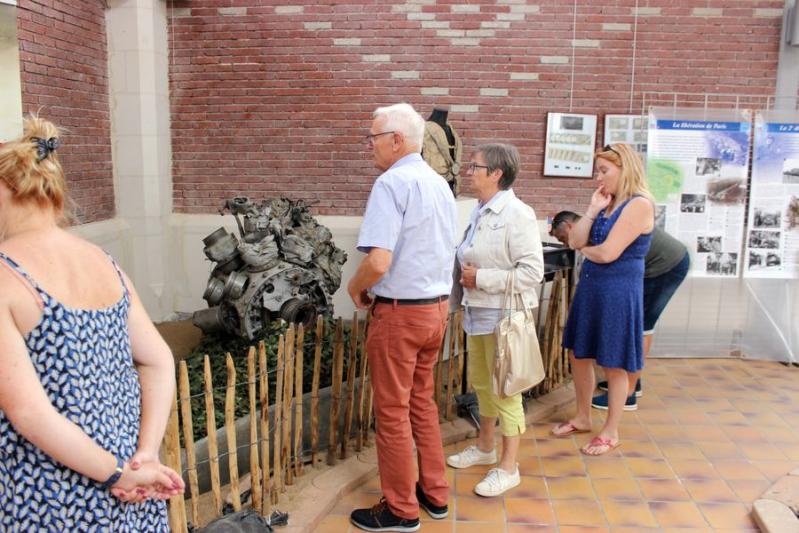 The booth ABSA 39-45
Photo © Benoit Paquet
COMMEMORATION
BOEING B-17 'HIGH BALL'
Muzillac (56), 18th November, 2017
Flying back from a mission over St Nazaire, on June 28th, 1943, the Boeing B-17 "High Ball" # 42-29847 crashed on this town ; 4 airmen were killed, 4 were P.O.W. and 2 escaped.

An exhibition was organized at Muzillac the day of this commemoration. André Franc, at the origin of this event, was there, together with the members of the Association Liberty Breiz Memory Group (military vehicles).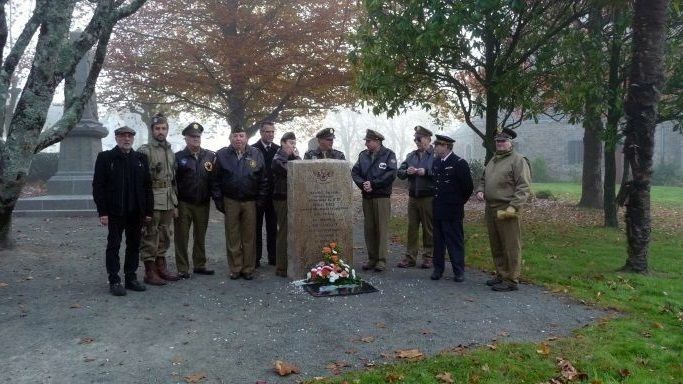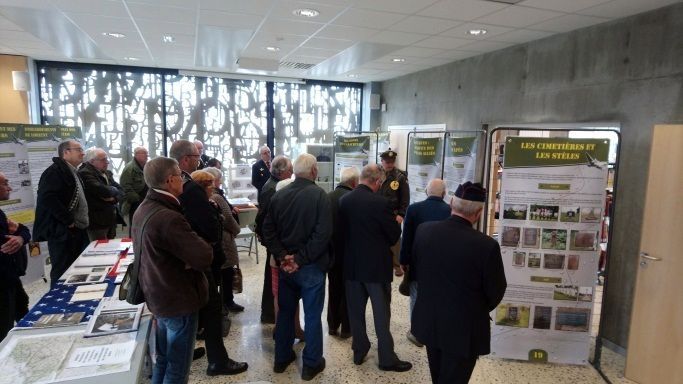 André Franc, on the left of the monument erected in memory of the The exhibition.
airmen of the B-17.
Photos © ABSA 39/45
WEEK OF THE MEMORY
Châteaubriant (44)
4th to 11th November, 2017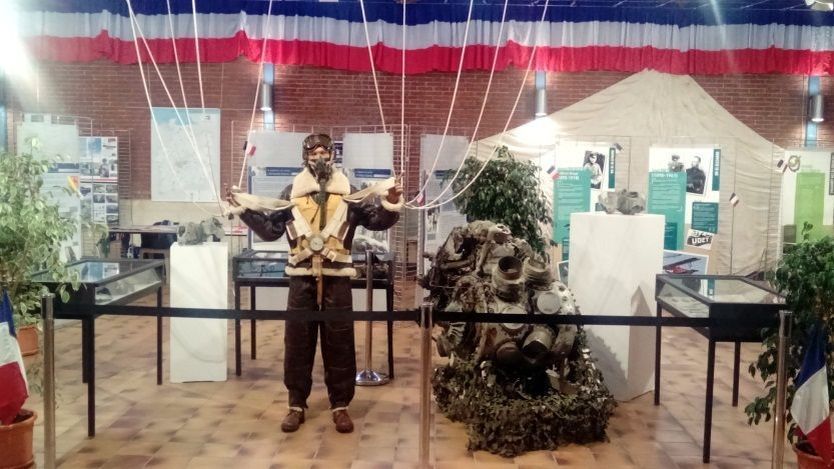 At the entrance, this wonderful exhibition by Pierre Mahé : manikin and engine of a Republic P-47 Thunderbolt
Photo © ABSA 39/45
Upon request by the city hall of Châteaubriant, the ABSA exhibited a whole week in the former covered market of the city. A large space which allowed us to expand us. The theme was on the aviation of WWI and WWII. We presented various parts, including all what we have concerning Harti Schmiedel, engine, personal belongings found on the pilot during the excavations in 2004, that we exhibited in two display cases, an information board and of course the engine.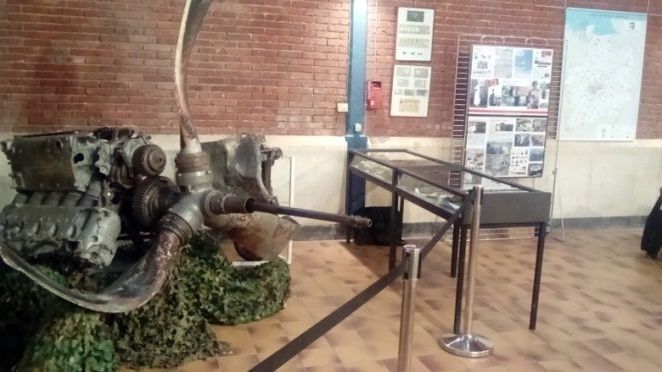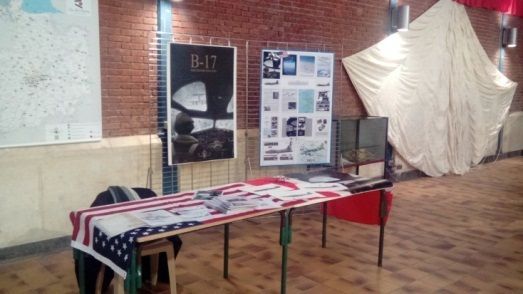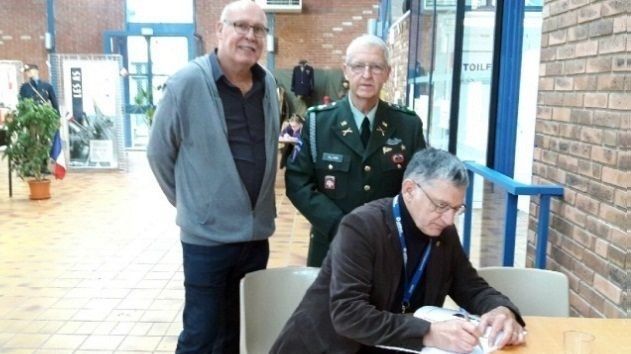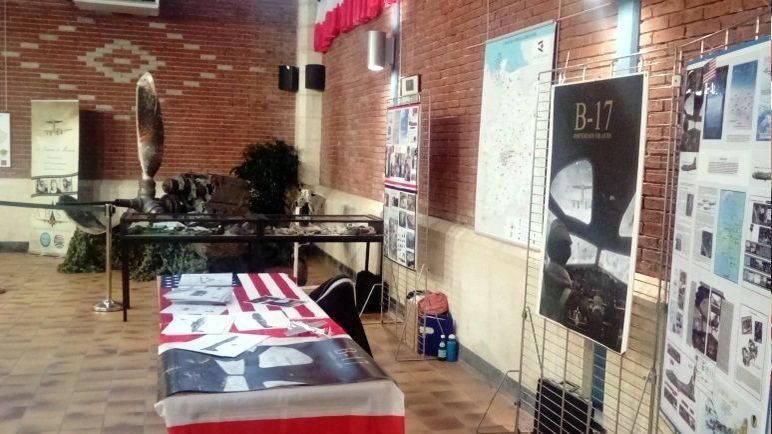 On Saturday 4th, the City Hall had organized a parade and a commemoration at the war memorial of Châteaubriant. At 11:30 am, all the participants entered the exhibition area to take photos in front of the surprising parachutist brought by Pierre. All this little team was majestically led by the granddaughter of General Patton, Helen Ayer Patton, who gave us the pleasure to make a too short stop on our booth.

The team of ABSA 39/45 at the exhibition : Daniel Dahiot, Pierre Mahé, Michel Dolcini, Yves Genachte and above all Barthélémy-Pierre Barré, who was ther faithfully every day of the exhibition.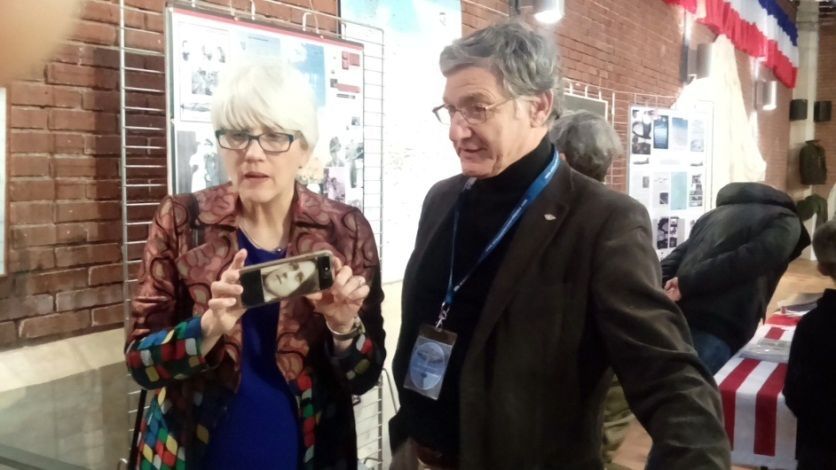 Helen Ayer Patton, granddaughter of General Patton and Yves Genachte Le Bail (ABSA 39/45).
Photo © ABSA 39/45